I've mentioned before that I think a lot of companies could get away with foregoing the traditional website and opt for a Facebook page instead. But if you're going to do a Facebook page for your business, then let's make sure you're doing what you can to make it easy for people to find you.
You can do this by personalizing your Facebook Page address!
Personalizing your Facebook Page address gives you a short url, perfect for marketing! Let me show you…
Old Facebook Page url – www.facebook.com/pages/Your-Company/324514237264?sk=wall

Personalized FB url – www.facebook.com/Your-Company
You mean you haven't done this yet? Well, no worries! It's really easy! So let's get to it.
Login to your FB page. Make sure you're using Facebook as your page, not your personal account.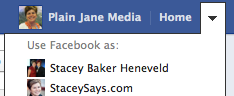 If you're running the new Timeline view, open up your Admin panel and click on "Manage". Select "Edit Page".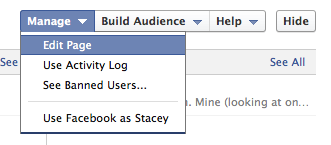 If you haven't adapted to Timeline, then you'll find your "Edit Page" in the upper right of your page.
Select "Basic Information" from the selections on your left.
Click on "Username:  Create a username for this page?"

Make sure you are on the page you want to edit (it should be listed right there on the left) and then type the username you want. The username is going to be that shortened part of your URL now. Probably the name of your company. Also, no spaces between the words. Once you have your username entered, click on "Check Availability". If that page name is already taken, then you'll have to make a modification to your name — YourCompanyInc, etc.

Awesome! You're all set. Now you can direct your customers, friends, etc. to your new URL!
Also, no need to have your customers or fans resubscribe or re-like your page. Nothing will change for them. They still get to see all of your amazing updates and photos. This just makes it easier when directing new fans to your site and for fans to tag you in their status updates or photos.