Motherhood: It's a pretty guilt ridden time in your life. Am I doing this right? Should I be doing more?
My biggest guilt is giving my kids what I call the "Left-over" Mom.
This is a general look at how the 24 hours of my day is split up: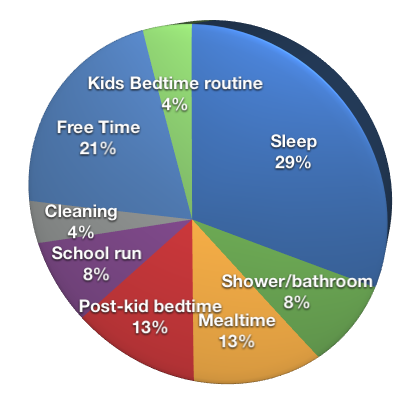 That blue sliver up there labeled "Free Time", that constitutes about 5 hours of my day. That is the time left after doing all of the other necessities in the house but my kids are still awake. Mind you, that time is sometimes increased as my "cleaning" time often overlaps on my "post-kid bedtime" and my "sleep" sometimes decreases.
The scary thing is that I have a lot to cram into that 5 hours.
Take care of my contracted work tasks
Respond to important emails & phone calls
Pay bills for personal and company
Grocery shop/run errands
Write blog posts
Spend time with the kids
Confession….those tasks above are pretty much in order of priority. It's like being kicked in the gut when I realize that my kids are taking bottom rung on that list. Ugh.
But that's how it goes each day. I spend the bulk of my time and energy on all the "other" tasks of the day. Then, if there is time and energy left over, that goes to my kids.
My kids are getting the "Left-Overs" of me. And let's be honest, who really likes left-overs? Sure, they're ok every now and again but not all the time.
So if I don't like eating left-overs all the time, why do I think it's ok to give "left-overs" to my kids? Why is it that I'm not giving them the best of me?
I think it is partially because I feel validation when I'm doing the other tasks. Like I'm completely something. I'm doing something important. I don't always get that feeling when I'm playing with the kids.
I need a big "kick in the butt" dose of reality. In five years, what will my kids remember — my really great blog post or laughing ridiculously hard because we tried to fly a kite on an absurdly windy day?
This doesn't mean that I need to stop doing all those other tasks. My work time is important. And as a speaker at Blissdom said, "I'm a grown-up. I'm allowed to work." It's ok to take time away from the kids to do some work. It's ok to let them watch a movie in the middle of the day or to be plugging away at my computer while they do some coloring next to me. It's a matter of balance. I just need to figure out how to achieve that balance.
The catch is that I'm always making myself feel guilty for working. After all, I signed up to be a stay at home mom. Is it fair that I want to do both?
How do you balance out your day? How do you keep yourself from feeling guilty about wanting to work while you're home with your kids?