It's been a rough week. The news of my Grams' passing, although not unexpected, put me into a fog last week. I feel like I'm mostly just going through the motions at different points during the day. The weird thing is that sometimes it feels like she's still here and then, other times, it feels like she's been gone for an eternity.
I told the girls about Grams last Thursday night. And it was hard. Gut wrenching hard. At first Zoe (4yrs) talked about how wonderful it is that Great-Grams gets to be in heaven and wear angel dresses and fly. But Abbi (6yrs), her heart broke. Instantly. She understood but didn't understand.
She knew that Great-Grams' health was pretty bad and that she had a hard time breathing. She noticed the oxygen she was using but never asked us much about it. She was sad that she won't ever see her Great-Grams again when we go up north during the summer or at Thanksgiving or at Christmas. And I am sad for her.
At some point during the conversation Zoe too realized what this all meant. And her smile dissolved into tears.
My girls love their Great-Grams. They miss her. I miss her.
Our week has been brightened up by the kind words of friends and the beautiful flowers that now decorate our tables. Seeing the colors and watching the lilies bloom each morning makes the girls happy.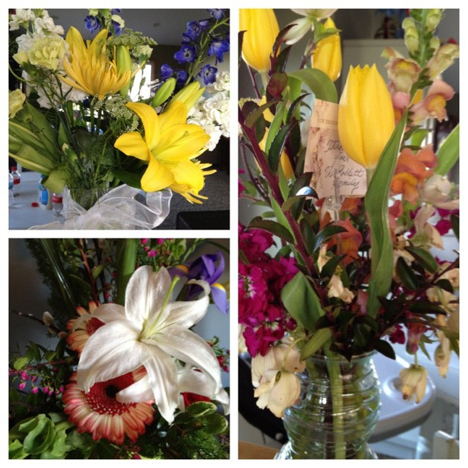 I know this will pass. I know the emptiness will fill and the pain will subside.
But today it is raw. It hurts. And I miss her.