When I looked at the picture of Zoe at the beginning of Preschool next to the picture of her on her last day, I didn't see too much of a difference. Physically, at least. She still has that same look about her.
Abbi, on the other hand, looks like she's changed a ton!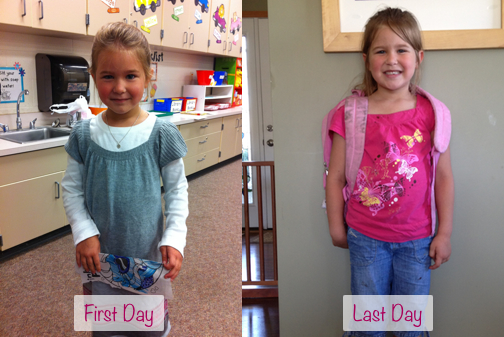 We've had a roller coaster of a year. To say the least.
Abbi loved school. She loved learning to read. Math. Science class with Miss Ruth. Recess. Popcorn Fridays. Art. Her AMAZING teachers!
But she also loves being home with me. Or at least she doesn't want to miss out on what might be going on here while she's at school. She has anxiety. She doesn't like change. She does not like the unknown. So heading off to school every morning was a battle.
Sure, it got easier. Eventually. But her anxiety of going to Kindergarten each day was recently replaced with leaving Kindergarten and going to First Grade. Oh the tears that have been shed over this.
But something happened yesterday and today. She decided that First Grade was going to be ok. She's going to miss Kindergarten but she's ready for the adventures First Grade holds for her this Fall.