This beauty came rolling up in my driveway today. And she's all mine…for a few days.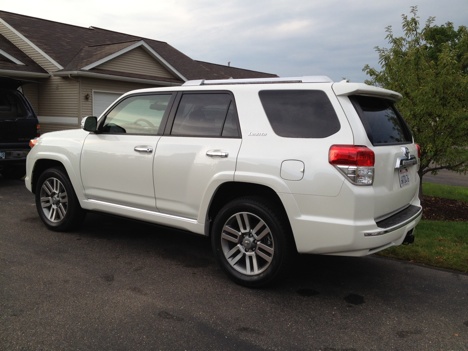 For the next few days, I get to test out this Toyota 4Runner. Yes, I do realize how lucky I am!
It is so shiny and clean. And strangely it does not smell of kids and dog. THIS is heaven! For a few days.
First impressions: I really like the look. I'm very much an SUV person. We did the mini-van thing and I was glad to say good-bye to that. I like sitting up a little higher (probably because I'm short) and just like how they drive. The problem is finding an SUV that can accommodate our family of 5, three of which are in booster/car seats. Not always an easy feat.
I was very happy to see the 4Runner had third-row seating, which allowed me to put one or two kids in the very back. And, because they have shorter legs, leg-room wasn't a big problem.
Also, I love the hands-free driving features. Matt, my new friend who delivered my 4Runner, quickly paired my phone to the car so I could listen to music from my phone and take phone calls if needed. Except that I usually have kids in the car, so phone calls don't typically happen. But the music part is nice!
The girls…they were in heaven the minute they opened the doors!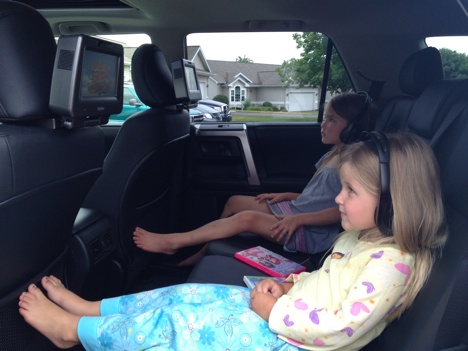 Notice how they are still in their pjs? Yeah, they were THAT excited about the dual screen rear-seat entertainment system.
OH. MY. MOOOOMMM! There are two screens in here! 
And they have headphones!!!
MOOOMMMM! We can watch different movies!!!! Or I can push this button and listen to Zoe's movie!!  THIS IS THE GREAST DAY EVAHHHHHHH!
No exaggeration! I had to bribe them to get them go back inside and actually get dressed.
So, this should be a fun week/weekend! I'll let you know our final verdict on the 4Runner after we've spent some time in it. That is if I ever leave it.
I did mention how clean and wonderful it smelled, right?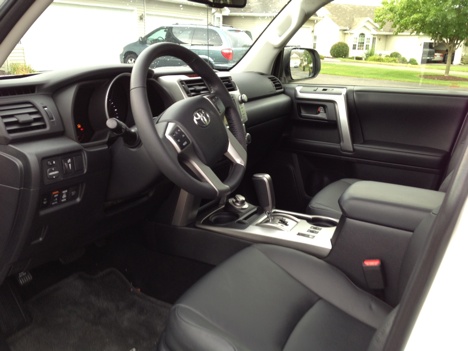 I was selected for participation in the TWIN community through a program with Clever Girls Collective. I did not receive any compensation for writing this post, or payment in exchange for participating. The opinions expressed herein are mine, and do not reflect the views of Toyota.