If there was ever a time to put my kids in a bubble, it would be the Summer. A bubble lubed up with sunscreen, of course.
I don't want to be that overprotective mom who eliminates all sources of fun. I just want to keep me kids safe and, between water and playgrounds and beaches and camping, Summer seems to keep me on my toes!
That's why I love this "Playin' Safe" Campaign with Subway® restaurants and local police. Let's face it, if my kids hear that the police are involved, they are a little more likely to sit-up and take notice as to what's being said! I can tell them how important it is to wear their helmets when riding bikes until I'm blue in the face, but when a police officer says it…It's like a law, mom. Like really important!
Starting July 23, kids (in participating areas) observed making safe choices will be issued a Playin' Safe Citation by local law enforcement. Don't worry, these "citations" are good ones! The kids can redeem these Playin' Safe Citations at participating Subway restaurants!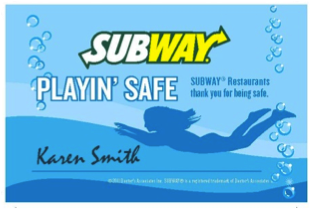 The "citations" will be handed out for things like wearing your helmet while bike riding, following safety rules on the road and sidewalks, or playing safe at the park. Just simple reminders and reinforcements for doing the safe thing!
To kick off the "Playin' Safe" Campaign, local representatives from Subway, YMCA, Boys & Girls Club, and law enforcement will be holding three "Playin' Safe" Events:
Monday, July 23 (10:30am – 11am) at YMCA of Greater Kalamazoo
Tuesday, July 24 (11am – 11:30am) at Boys & Girls Club of Grand Rapids
Wednesday, July 25 (10:30am – 11am) at Reese Playground (YMCA Parks & Rec program)
So, how do you promote or teach summer safety with your kids? Do you have a No Helmet = No Bike rule? Take swim lessons?
Each year, one out of every four children needs medical attention for an accidental injury.

Drowning ranks fifth among the leading causes of unintentional injury death in the U.S.

For every child who dies from drowning, another five receive emergency department care for nonfatal submersion injuries.

*stats courtesy of Center for Disease Control and Prevention
My biggest struggle is when we are at the playground! I feel like it's a constant battle to get my kids to play on the playground equipment the way it was intended (no walking up the slide, no climbing on the sides of structors, etc) when other kids are doing those very things! So, we're still working on that one.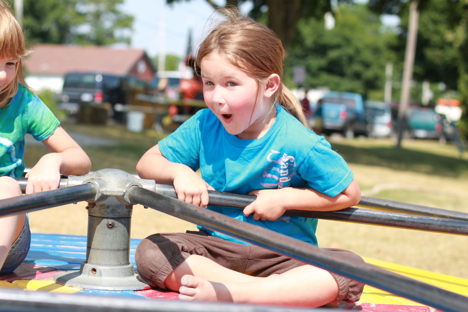 Alright, tell me how you're PLAYIN' SAFE this Summer and you could win $50 worth of Subway Cards! That's a lot of sandwiches to get you through the remaining Summer weeks. You'd pretty much have your picnics taken care of!!
This post is part of a compensated campaign with SUBWAY® restaurants and the Playin' Safe Campaign. All opinions are my own.