Maybe it's because this Summer has been incredibly hotter than usually. Or maybe it's because I'm traveling daily with three kids who are much more vocal about things. Either way, I'm becoming very aware of keeping my car a safe environment for the kids during the Summer!
And it's pretty easy. You just need to be aware.
It's amazing how quickly the car can heat up in the Summer heat. It becomes a little oven with lots of dangers for little ones. So, here's what I'm doing:
1. Keep carseats covered with a towel or cover while not in use. The fabric may just feel a little warm to you after it's been sitting in the sun, but those little chubby baby legs are pretty sensitive. Also, the metal clasps can get really, really hot and possibly burn. Keep the carseats covered to keep them cool.
2. Cool the car before you go. During the Winter months, we never hesitate to start the car a few minutes before jumping in so it can heat up. Well, the same can be done during the Summer months. Start the car a few minutes before you go, turn up the AC and let it cool down before piling in.
3. Use sunshades. Most cars do have a UV protectant on the windows but you can always use more. Grab a sunshade from your local store and stick them on the windows where your kids are sitting. The sunshade will help keep that blazing sun off sensitive skin and will provide a little extra protection for their eyes, too.
4. Check the temperature. Periodically, check the temperature in the backseat. Sure, you may be comfortable up in the front seat but temperatures can vary throughout a vehicle. Especially if you'r driving an SUV or minivan. Take a second, jump in the back and make sure it's not too warm or too cold for the kids. This is also a great way to make sure vents are working in the backseat!
5. Never leave kids or pets in the car. For so many reasons. It only takes a few seconds for things to happen.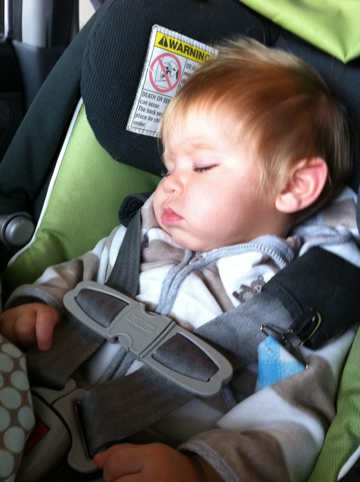 How do you keep your kids safe in the car during the Summer? Share your tips! I'm always looking for more and better ways!
I was selected for participation in the TWIN community through a program with Clever Girls Collective. I did not receive any compensation for writing this post, or payment in exchange for participating. The opinions expressed herein are mine, and do not reflect the views of Toyota.