As a very digital family, I love finding ways that we can integrate the technology we already use and love into ways the kids can keep learning. It would come as no surprise to know that my phone is equal parts apps for my kids as it is apps for me. I have downloaded a variety of apps for the girls that teach letters and numbers, math and spelling, etc. And then some just for fun!
Gone are the days of traditional "flash" cards. Or are they?
When I heard about these new "flash" cards that were actually utilizing the technology of the iPhone and iPad, my curiosity was peaked. So I set off to the iPhone/iPad accessories section at my local Target to see if I could find these new Cypher Kids Augmented Reality Cards.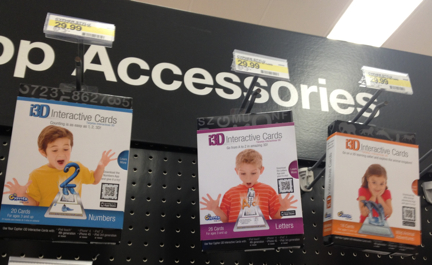 *You can view my entire shopping trip for these cards on
Google +

Since Zoe did not have school on Friday, I thought this would be the perfect time to try out the Cypher Kids Cards. There are three different packs of cards — Letters (A to Z), Numbers (1 to 20), and Wild Animals.
To accompany the cards, I needed to register for a free account at CypherKids.com, which was more confusing than it needed to be (I had a hard time finding the place to register) and I'm still not seeing how it was necessary to do so. Then I downloaded the free apps for my iPhone (super easy to find in the iTunes app store).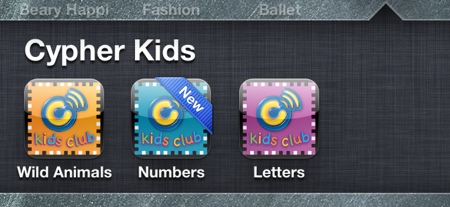 The colors on the app icons conveniently coordinate with the colors on the matching package of cards. This makes it much easier for my pre-reading preschooler to recognize which app she should select depending on which cards she is using!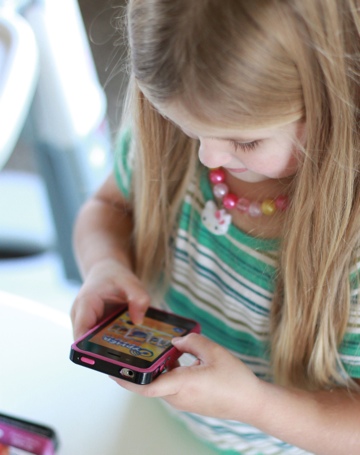 Each learning card in the package features a letter, number or wild animal that coordinates with the "cards" on the apps. Simply select a card from your pack and then select that same "card" from the app. Turn the flash card over to reveal the "cypher code", line up the phone's camera to view that code, and watch the animal, letter, or number come to life on the phone.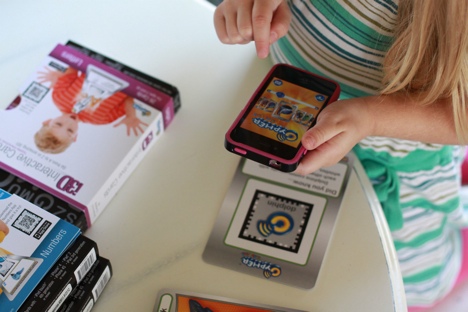 The first pack of cards we tried were the Wild Animals. And Zoe loved it! She was switching through cards, one after another, to see what the phone had to say about the animal. She caught on super fast as to what she needed to do and, after the first card, no longer needed my help.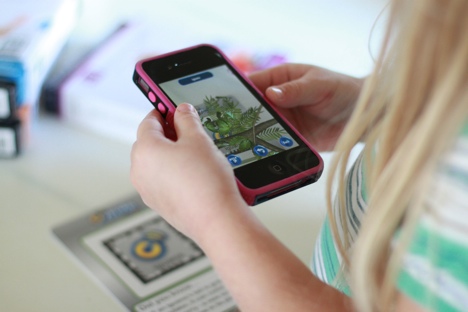 She loved hearing the animal facts and watching the animal move around on the phone screen as though it was right there.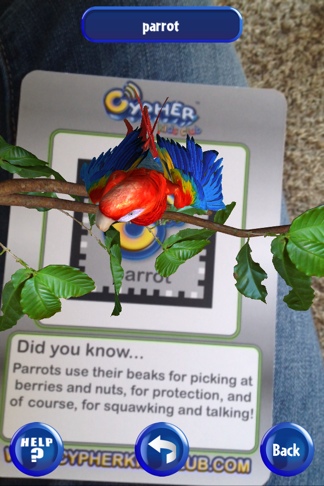 I liked that it shows the name of the animal (good practice for her as she begins reading) and shares facts about the animal both verbally and that she can read (i.e. "Did you know…"). Zoe also loved the "Snapshot" feature where she can fill my Photo Album on my phone with all sorts of animal pictures. Then we noticed that we could take a picture of her with the animal by doing a screen shot. Here she is with a walrus on her shoulder!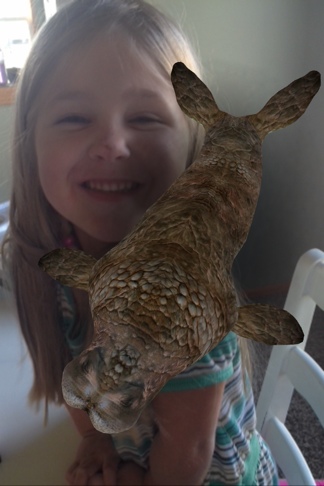 After going through a bunch of animal cards, we decided to try out the Letters and Numbers packs. The Letters and Numbers work the same as the Wild Animals, with the exception that the Letters cards now had little robots that talked you through each "card". At first it was a little trick to get the angle right so that Zoe could see the letters clearly, but eventually we figured it out. I appreciate that they feature both the uppercase and lowercase letters, talk about the sound the letter makes, and then shows an object that begins with that letter. Your child also gets to interact with the object and letters by following simple instructions from the robot.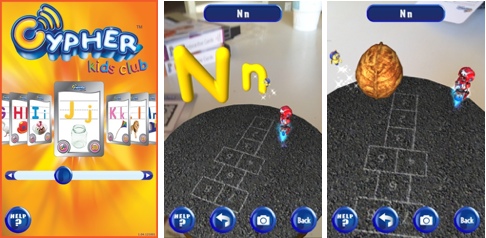 I do wish the Letter cards offered more activities. It would be fun to have an interactive game where the child traces the letter, tries to find the correct object that goes with that letter, or something along those lines. I just felt like my child might get bored easily with this pack.
Lastly, we tried out the Numbers pack. Again, same general concept as the Wild Animals and Letters. However, I was not all that impressed with these cards. It was fun to see the number dance around and even have it interact with an number of items (number 2 was wearing 2 sneakers) in a cute little song, but that was where it ended. Again, I would have really liked to see more interacting with the child or something that stretched the child. Maybe an activity where the child had to select a group of two somethings on the screen or drag the animated 2 over to the group of two while there are other groups of different numbers on the screen.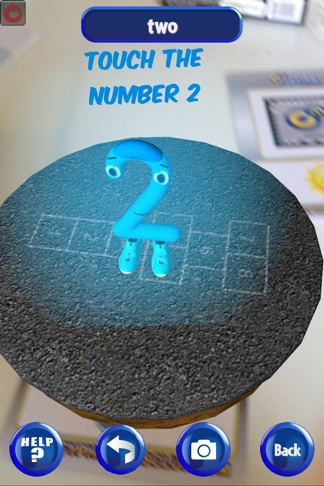 While I don't see us using the Numbers and Letters cards much with Zoe, I know she will definitely be pulling out the Wild Animal cards quite a bit! And I think her older sister will enjoy the Wild Animal cards as well. We might also find the Letters and Numbers packs more useful with Talon as he's first starting to learn his letters and numbers in the next year.
Now I just need to figure out how to get my phone back!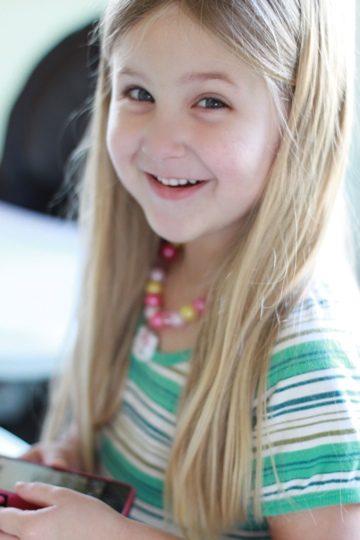 The Cypher Kids Augmented Reality Cards would make a fun gift for your techy little preschooler, but be sure you have a compatible iPhone or iPad. You can find the Cypher Kids Augmented Reality Cards in the iPhone & iPad accessories section of stores like Target for $29.99 each and be on the lookout for them during your Black Friday shopping! If you want to learn more about Cypher Kids Cards, check them out online, on Facebook, or on Twitter.
I am a member of the Collective Bias™ Social Fabric® Community.  This shop has been compensated as part of a social shopper insights study forCollective Bias™ and  Cypher Kids Club #CBias #SocialFabric #CypherKidsClub. All opinions are my own.