Ah, Middle School! The three most awkward years of a person's young life. I love it!
All the awkwardness and drama! Walk into almost any Middle School and you will see everything from a little sixth grader who still wants recess twice a day to an eighth grader who is ready to shave!
And while most people are happy to forget those uncomfortable Middle School years, it looks like best selling author Jeff Kinney is making wimpy the new cool!
Jeff Kinney, best known for his hilarious Diary of a Wimpy Kid book series, just wrapped up his 50 stores tour promoting the release of his seventh book in the series, The Third Wheel.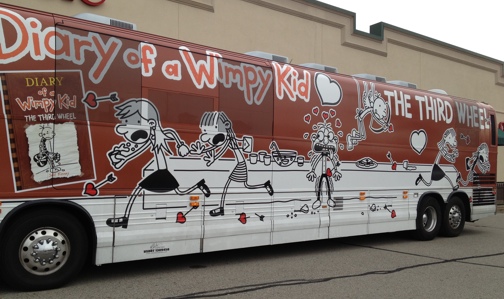 The Diary of a Wimpy Kid series follows young Greg Heffley as he navigates the world of Middle School — friends, girls, parents, older brother. What I adore about these books is the style in which they are written. Jeff writes them in first person, as though the story is being told directly from Greg, and in between thoughts and interactions, you get these adorable comic type illustrations. The illustrations make it even more fun for kids to read!!
Jeff was kind enough to take a few minutes to chat with me about his new book, Diary of a Wimpy Kid: The Third Wheel, in between book signings when he was in Grand Rapids and series fans will be happy to know that the adventures of Greg Heffley will not stop here. In fact, he has three more books in store for his young readers!
And it may or may not come to any Wimpy Kid reader's surprise to know that Jeff originally did not want to become an author. He actually wanted to be a cartoonist and it wasn't until he was turned down as a cartoonist that he decided to turn to writing. Of course he's now able to incorporate his cartoonist talents into his books!
But that led me to ask him this question…a question with an answer that I loved….
Me: What words of advice would you give to a kid who is wanting to write books?

Jeff: I would tell them to find an adult in their life that isn't afraid to give them criticism. I grew up being told everything I wrote was great. It wasn't until a fifth grade teacher gave me a little criticism that I realized I wasn't as good as I thought. Receiving criticism is good and makes it easier when you get into writing and publishing.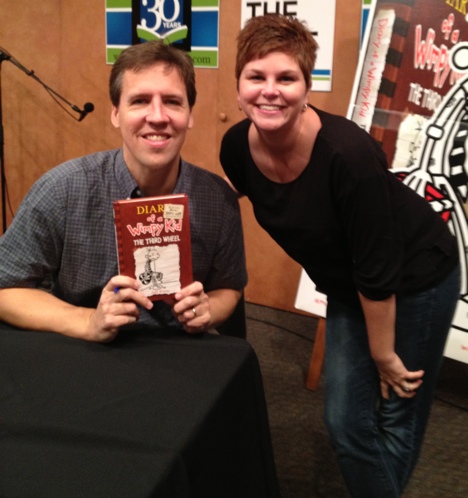 I never thought about that. As a mom, I'm always quick to tell my girls that their writing is great, their paintings are wonderful, etc. Not that I need to be nitpicking them and their work, but, as they get older and start to explore their passions, it might be helpful to give them some constructive criticism rather than sugar coating everything.
Just food for thought.
Ok, back to the book! The latest addition to the Wimpy Kid series, Diary of a Wimpy Kid: The Third Wheel is now available and I have no doubt that your kids are going to love it! Matter of fact, this is a perfect stocking stuffer idea! Or, if your kids haven't yet discovered the Wimpy Kid series, now is a great time. You can pick up the entire series in book form or for your e-reader!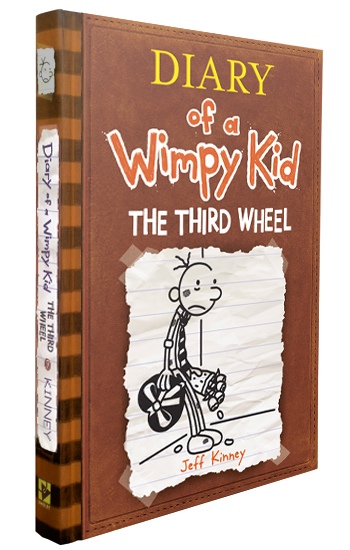 Win your own book!
You can also enter to win your own Diary of a Wimpy Kid book right here! That's right, I'm giving away a Wimpy Kid book and the winner gets to choose which one he/she wants! The winner can select from Diary of a Wimpy Kid, Rodrick Rules, The Last Straw, Dog Days, The Ugly Truth, Cabin Fever, and The Third Wheel (the latest addition).  To enter, just follow the Rafflecopter instructions below.

This post is a sponsored post. I was invited to an exclusive media event with Jeff Kinney and received a complimentary book. Giveaway prizing is also being provided. All opinions are my own.