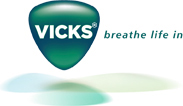 For the past week and a half I've been tending to sick kids. Bringing them water. Cleaning up puke. Snuggling with their feverish little bodies.
Being in the trenches for that long, one can only hope that you yourself don't get sick. We moms like to think we're a bit invincible. But, the reality is that even superheroes get sick.
And so, here I am. Tired. Achy. Feverish. Nose dripping. Head pounding. Sick. 
But, unlike my kids' world, things do not come to a screeching halt when I get sick. My now healthy kids need breakfast and lunch and snacks every 20 minutes. They need someone to clean up the box of cereal that spilled when they thought they'd get out of the cupboard themselves. Diapers need to be changed, no matter how nasty they are. And on and on.
So, here are my five tips for surviving a "Mom Is Sick" Day:
1. Don't do it all.
Sure, the laundry and dishes are piling up but give yourself permission to not touch them. Do your kids still have something clean in their closet? Perfect! It's ok if that outfit doesn't match perfectly, when the preschool teacher hears your sniffles as you drop your child off at school, she'll understand. Also, there is nothing wrong with serving the next few means on paper plates! All that stuff will be there when you're feeling better! Unfortunately.
2. Take help.
Call in the reinforcements if you need a little extra help. It's as simple as having grandma and grandpa take over dinner for the evening. The kids will be thrilled to spend some time with grandma and grandpa and you get out of dinner. Just be sure they make or bring dinner with them! (And you know grandma's going to do the cleanup, too.) Tim's very good about this! He offers to do school drop off/pick up or will take the kids out for breakfast or to the book store so I can get some extra rest. When those bits of help are offered, take them! Or ask for them!
3. Rest.
With little dare devils in my house, it's not realistic for me to take naps throughout the day, unless the kids are already napping. But I can rest. Lay on the couch while the kids building a LEGO world around you. Have them snuggle up in bed with you for a late morning movie (grab a movie you know they'll love and sit through). The importance is you are giving your body rest. Time to just be still and heal.
4. Boost that immunity.
Water. Water. Water! Drink it up. Let it flush out the sickness from your body. And, if you're able to eat, grab small bits of those vitamin packed fruits and veggies. Or juice them up and get sip on some vitamin packed smoothies.
5. Sleep!
So much easier said than done! It seems that when my body needs the rest the most, it's the hardest thing to get. Between coughing and the uncomfortable-ness of being sick, I just can't get the rest I need. So, while I'm not a big medication person, this is when I am so thankful for things like Vicks NyQuil. Because I know Tim is there at night to take of kids who may have a bad dream or wet the bed, I can take Vicks NyQuil and take comfort in a good night's sleep. Also, as much as I'd love to see the latest episode of Grey's Anatomy, I keep the TV off and head to bed right after the kids, giving me a good 9 or 10 hours of sleep!
Then, if I need that extra boost during the day, I take Vicks DayQuil. It helps relieve some of my symptoms and lets me power through lunch time or gymnastics class. It's not going to cure me of my ills, but it does help this not-so-super mom keep going.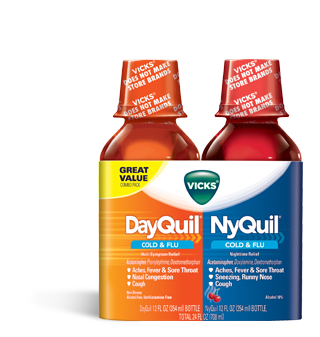 How do you handle those "Mom Is Sick" days? 
I participated in a campaign on behalf of Mom Central Consulting for Vicks DayQuil & NyQuil. I received product samples and a promotional item as a thank you for participating.