Growing up, I was always told I could be whatever I wanted to be. I never felt held back because I was a girl. Now, being into my 30s and seeing the world around me (outside of my very small town), I can see what a blessing that was. To have that support. To be raised in a family of women who exuded strength in their own unique ways.
I want so badly to demonstrate that to my girls.
I don't care if they become the leader of an army, a company, the country or a family. I just want them to recognize the strength they have inside them. The strength to change the world around them for the better. To not be afraid of some hard work.
I'm always drawn to this one episode of Little House on the Prairie — A storm rips through the area and destroys their wheat crops. Knowing they now have no wheat to sell to buy the supplies they'll need to survive the winter, the men head off to work in mines and find other jobs. But it's the story of what the women did that struck me. They did not sit in their houses, worrying about how they'll survive or where the money could possibly come from. Nope. They went out to the fields and gathered whatever wheat was not destroyed. They picked through dirt to gather as much grain as possible.
It's that strength that I want. And it's that strength that I want to celebrate in women and in my daughters.
I am so thrilled to be partnering with Walmart as they launch Empowering Women Together.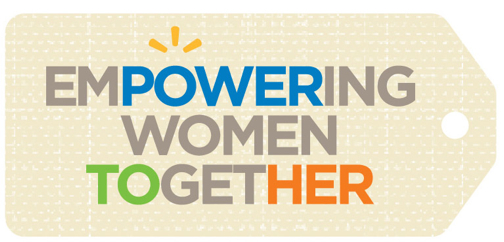 This initiative is an effort to help empower women across the globe as they create products that can be purchased through the Empowering Women Together website.
What an amazing opportunity we have to lift up the next generation of young women as we help women today create jobs and a positive impact on their community! I love that these women are embracing their talents to create opportunities for themselves and the other women in their communities. That they are not just sitting around, waiting for a hand-out. They are not afraid of a little hard work. The lessons they are teaching their daughters and grand-daughters is amazing!
To learn more about Empowering Women Together, check out their website or connect with Walmart on Facebook, Twitter, and Pinterest.

I'd love to know, how are you helping to empower the women/girls around you? Maybe it's something as simple as helping your daughter sell the beaded necklaces she's made!
I am part of the Mom It Forward blogger network. Mom It Forward and Walmart partnered in support of this campaign. Walmart compensated me for participation in this campaign. However, all thoughts and opinions are my own.