When Tim and I got married 10.5 years ago, there was a lot to learn about each other. Along the way we each compromised on things. Anyone in a relationship will tell you that mutual compromise is one of the keys to making a relationship work. But there is one thing neither of us will compromise on. One thing that we just don't see eye to eye on…
Peanut Butter & Jelly Sandwiches!

He says…
Tim likes "open-face" sandwiches. He toasts his bread, slaps on some butter, then some peanut butter, and then jelly/jam. All on one piece of bread.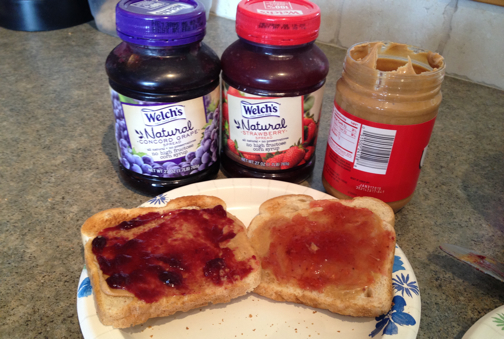 Umm…what? I'm not even sure what that is. But somehow he's convinced our 5 year old  and 2 year old that those are the best sandwiches, despite the obvious mess they make!

She says…
I like my sandwiches in true sandwich style — two pieces of bread happily placed together. One piece of bread gets the peanut butter and the other gets the jelly. They meet together in the middle, in the privacy of the inside of the sandwich. Done.
Nearly 11 years later, the debate continues and neither of us is budging!
While we may never come up with just one appropriate way to create a PB&J Sandwich, I thought we might be able to meet in the middle with a fun new recipe — PB&J Pockets.
Directions: Simply lay out crescent rolls on a cookie sheet. On each crescent, spread on some peanut butter and then a dollop of Welch's Jelly. Roll it up and pinch the seams together. Bake at 375 degrees for 15 minutes or until crescents start to brown. Cool and serve.
Abbi thought the PB&J Pockets were great but Zoe is holding true to her dad's open-face sandwich style.
Looks like the PB&J debate will continue in our house.
How do you like your PB&J Sandwiches? 
Visit Welch's "PB&J Your Way" Contest on Facebook and tell them how you like your PB&J for a chance to win $500 and a one year supply of Grape Jelly!
I participated in a campaign on behalf of Mom Central Consulting for Welch's. I received product samples to facilitate my review as well as a promotional item as a thank-you for participating.