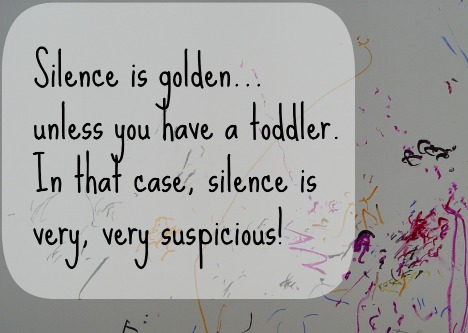 I always thought that saying was a little silly. Something we parents can chuckle at. Then, I had Talon.
As much as I love my moments of silence throughout the day, when it comes to Talon, silence is scary. Silence means he has concocted some sort of tower that he is trying to traverse in the effort to reach whatever toy his sister has placed on the counter in hopes of keeping it out of his hands. Silence means he is making my walls his personal art pallet because, apparently, paper stifles his creativity.
Worse yet, silence means he is stripping out of his clothes and his diaper and quietly giggling as he pees on the floor or his sister. Yes, his sister.
This boy loves "naked time". At least that's what we call it now since he insists on taking off his diaper nearly every day. It's not so bad during the day, when we're playing and I can keep an eye on him (trying to catch him before he pees). It's bad when he does this during nap time. Or bed time. Naked baby in the crib is not a good thing!
This resulted in mission: Keep the Diaper on Talon!
I do believe the Navy Seals have seen easier missions than this! I've pretty much tried every humane way of keeping that diaper on him. Everything from adding extra tape to the tabs to putting the diaper on backwards. He is the Houdini of diaper removal!
Then Huggies asked me if I'd like to give their new Little Movers® Slip-On® Diapers.
Honestly, I wasn't too optimistic. I mean, I'm sure they'd be great diapers but I wasn't too optimistic that this would solve our de-diapering issue. But I was willing to try.
After a few weeks of Talon putting the Slip-Ons through the their paces, I must say, I'm pretty impressed! The Little Movers® Slip-On® Diapers still feature Huggie's Little Movers® design and trusted Leak Lock® Protection. Which means that Talon can still do all his running, jumping and climbing in comfort. A boy can't let a thing like a diaper get in his way!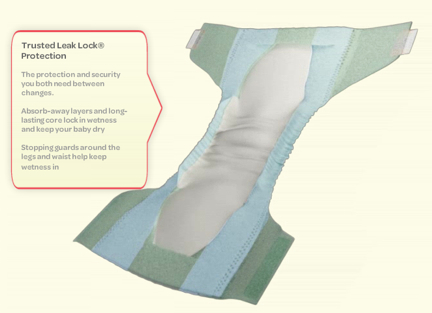 The Slip-On® Diapers also have the same absorbency as a regular diaper. This was something I was concerned about because I really didn't want to move to a training pant that are, typically, a thinner, less absorbent option. I still wanted a diaper but one that he couldn't or wouldn't take off so easily. Yet they are super easy for me to slip on and off of him! Which is a big bonus when you have a squirmy  toddler who doesn't want to waste time while I adjust a diaper on him.
So, the big question…Does he still de-diaper himself with the Slip-On® Diaper?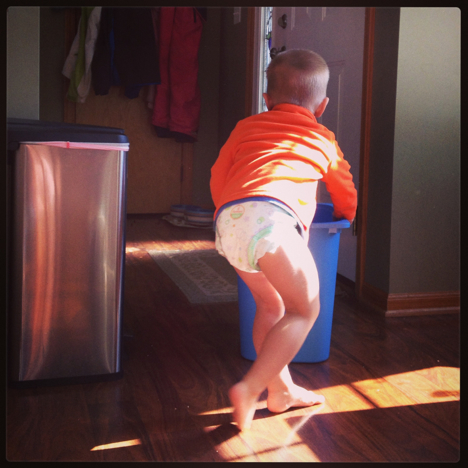 So far, so good! I'm not sure if it's the fit or the design or maybe the tabs are a little harder for him to grasp, but he seems to keep these ones on! Yes, he still gets his "naked time" but now I'm not worried about "naked time" happening during nap time or bedtime!
If you're interested in trying out Huggies Little Movers® Slip-On® diapers, be sure to grab this coupon and save $2 on your next package.
Did you have a streaking baby in your house? Have you tried Little Movers® Slip-On® diapers yet?
I participated in a campaign on behalf of Mom Central Consulting for HUGGIES. I received product samples to facilitate my review. All opinions are my own.