I say time and time again, I'm so glad things like Facebook and Instagram were not around when I was a kid!
One of the many reasons being those awkward childhood pictures. Oh, and did I have some awkward ones! Sure, a few of those photos have made their way onto Facebook from time to time but, for the most part, those photos are tucked inside photo albums hidden in a closet or there weren't any photos taken and those embarrassing memories are nothing more than stories told at family gatherings that I can continue to deny ever happened!
The years I had no front teeth because they had to pull my baby teeth. Or the time someone thought it would be fun to give my sister and me a can of shaving cream in the bathtub. Or my "Dirty Dancing" phase and my obsession with having my hair permed to look just like Jennifer Grey's. Not a pretty sight.
Despite all my awkward moments, my mom was there. Indulging me. Supporting me. Even during my bodysuit and tight-rolled jeans phase or the phase where I would rat my bangs and unleash an entire bottle of hairspray on them to get them nice and high! She must have been rolling her eyes so many times!
In honor of Mother's Day this weekend, Zales has created a "Friend Your Mom" Movement on Facebook. Give your mama a little love on Facebook this week and enter to win a little shiny bling-bling from Zales. I'll leave it up to you on whether or not you keep your winnings for yourself or give it to your mom. Or you can give it to your favorite blogger…just sayin'.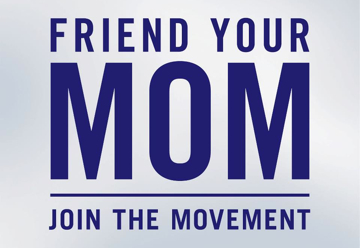 And, to kick off this fun Mother's Day campaign, Zales has put together this "Awkward Moments" video. Keep your eyes peeled because yours truly is in there somewhere.
What's your favorite Awkward Childhood Moment? And is there photo proof floating around somewhere that you're hoping does not surface on social media someday?
I am working with Zales and MomSelect on this sponsored campaign to help spread the word about the Friend Your Mom Movement and further embarrass myself with the video. All opinions are my own.