Zoe loves to watch me. It's kind of creepy at times but then, in her 5 year old sweet voice, she'll tell me she's watching me so she can learn how to be a grown up. You know, for when she's "18 and needs to learn to make my own macaroni and cheese or put on make-up."
Sometimes we forget that these little humans are watching our every move. Learning, absorbing, taking our cues on how to navigate this very large world. That is, until they repeat one of our less-than-stellar moments and we're all "where on earth did you learn that? Darn those neighbor kids!" Oh, wait, they learned that from me. Ouch!
This totally hit home for me when I was sitting at the Drive It Home event in last week.

Drive It Home, a free event developed by the Allstate Foundation and the National Safety Council, was created to help inform and remind parents about their roll in keeping their teen drivers (and those they encounter) safe on the road. Facts and safety tips were woven in between funny skits featuring comedians from Second City Communications, words shared by Council and Foundations members, and an emotional story from a mom who lost her daughter in a car accident caused by texting.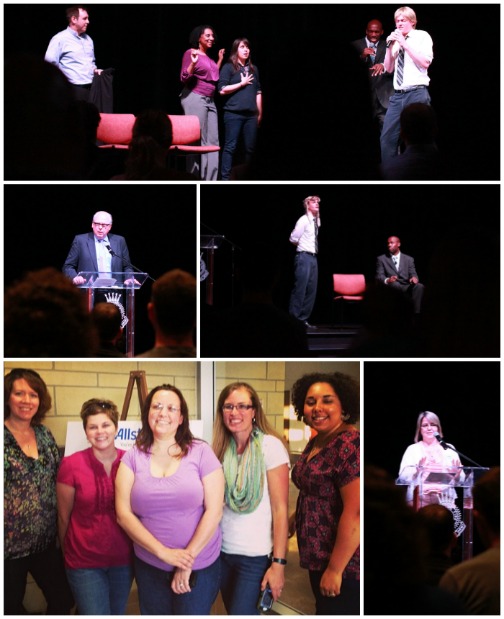 I know, I know, I have a good number of years yet before any of my kids get behind the wheel of a car. But here's the part that got me: One of the speakers reminded us that drivers training does not start at 15 or 16. It starts now. When they are 4 or 5 or 6 or 7. My kids are in the car 90% of my driving time. And we spend a lot of time in the car! Each time I get in that driver's seat, my kids are watching. Learning. Observing. They see me drive too fast when we're running late to school. They hear me tell a lady to learn how to drive because, really? 35 in a 55? They see me pick up my phone to make a phone call while driving. I'm a big "No Texting While Driving" supporter but I do make phone calls while driving.
No big deal, right? Wrong! Making a phone call while driving isn't a big deal for you, a seasoned driver who can operate a car and evaluate the situations going on around them and make a phone call. But teens can't. They have yet to learn or gain the experience of being able to assess the world around them as they drive. But they've seen you make phone calls while driving a hundred times so it should be no big deal for them, too. But it is. This totally convicted me!
I was also surprised to learn that, while texting is a big problem when it comes to teen driving, it is not the number one factor of teen auto accidents. According to the Drive It Home event, the number one cause is lack of experience. In Michigan, teens must log 50 hours of driving practice before they can get their license (way more than when I was 16). If you don't feel your child is ready to drive alone, then don't let them. Spend more time driving with them. Drive with them in as many different situations as possible!
Drive It Home is a great event for any parent who has a child getting behind the wheel soon or ever! And did you catch that it's FREE? Yup! Oh, and you can enter to win some pretty cool stuff like gas cards or a new car while you're there! Check out their website for upcoming event dates and locations! And, while you're checking out upcoming dates/locations, take a look around the site for some great information and resources!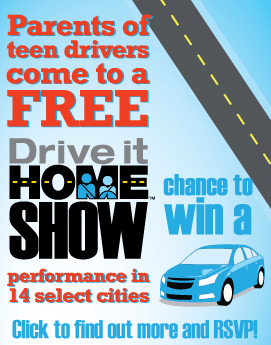 What's a driving habit you're really hoping your kids don't pick up from you?
I was selected for this opportunity as a member of Clever Girls Collective, and the content and opinions expressed here are all my own.