Some times I look back at my childhood and wonder, "What on earth was my mom thinking?"
Don't get me wrong. My mom did a bang-up job raising me. But handing over keys to my own car when I turned 16? Awesome! And, yet, so crazy!
See, when I went through drivers training it was very different than it is now. My instructor was our high school gym teacher and wrestling coach (and pretty awesome guy). He knew what he was doing but our classroom instruction time was "read the book & watch the movies & try not to fall asleep" and our in-car instruction time was "good God, kids, just don't crash us!". 
Somehow I managed to turn out as pretty good driver, aside from my disdain for parallel parking and my lead foot.
I digress. Back to the topic of my mom giving me that auto-freedom. What would you (will you) do? Would you hand car keys over to your teen and say "have fun!"? In my mom's defense, we did live in a very small town and I'm sure she did get word every time I was seen speeding through town, cruising Main Street too many times, or out driving past curfew. Those of you who grew up in a small town are totally nodding your head right now! Even when you got away with something, you knew you didn't really get away with it.
Sure, it was frustrating growing-up knowing Mr. or Mrs. So-and-so would be ratting me out for doing whatever it was I probably shouldn't have been doing, but kids today have it quite a bit harder…don't you think? Aside from all the new hoops you have to jump through to get your license, parents today have almost constant contact with their teens. Hello, cell phones.
Walk in to any teen-populated event or area and you'll see nearly every teen with a cell phone (yes, I realize this isn't true for every teen). Gone are the days of "Sorry, Mom, I couldn't get to a phone to tell you I'd be late." And, with family-connection apps like Family by Sygic, you can actually keep tabs on your pre-teen out with his friends or your newly-driving teen who said she was headed to the library.
The "Safe Zones" feature on Family by Sygic allows you to set-up areas, like school, friend's house, work, and, when your child enters or leaves those areas, you'll get a notification on your phone. Likewise, you can also set up  "Unsafe Zones" that virtually do the same thing, sending you notifications if your child enters or leaves those zones.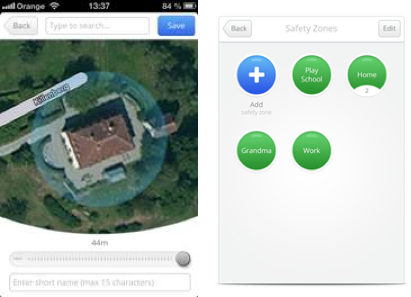 While my kids aren't quite ready to drive yet (praise the Lord!), I do like the idea that you can use these "Safe" and "Unsafe" Zone features with your pre-driving teens. Heading out to a big park or amusement park with the kids this Spring? Set-up Zones for areas you do or do not want your child in while there. Or, use the Augmented Reality feature to pinpoint where your child is in the park or amusement park crowd.
Of course responsibility and safety doesn't begin or end with an app on a smartphone. Somewhere along the way, we need to help teach our kids these things. How do we do that as parents?
Here's what we're doing. It starts at home. Before they're running (or driving) off with friends. When my girls want to ride their bikes around the neighborhood, it is their responsibility to make sure they are wearing appropriate clothes and helmet (safety!), to stick together (safety!) and put their bikes and helmets away when they are finished. Does it happen that way every time? Nope. I find helmets in the yard and bikes left in the driveway quite often. But we're working on it. And, who knows, maybe by the time they are ready to drive, they'll have the "put away your helmet & bike" idea down!
So, how do you help teach your kids responsibility and safety? What about when it comes to driving?
Share your ideas and use the Rafflecopter form below and be entered to win my giveaway for a $100 Amazon Gift Card!
And don't forget to check out the Family by Sygic app (free download) for your iPhone/iPod or Android.
I am currently working on an ongoing sponsored campaign with PTPA and Sygic. All opinions are my own.