Earlier this Spring I shared with y'all about how I am determined, this Summer, to help my kids fall in love with writing letters. We're calling it our #LetterProject.
So far, just a few weeks into Summer vacation, and it seems to be going well. The girls are excited to write letters to their friends and family and are hoping to get a few in return. I absolutely love that they are taking time to really think about what they want to say in their letters and it's been a great way for them to practice their writing.
Of course they decided that I should join them in the letter writing fun. So, for an hour or so during the week we are closing down the computer and turning off the tv and writing.
This week I'm substituting my letters for cards as I take on a challenge from Hallmark to send seven cards in seven days!
This has probably been one of my favorite challenges I've ever received. I absolutely adore sending people cards for absolutely no reason at all other than to tell them how amazing they are. I just don't take the time to do it. It's amazing how those cards seem to hit someone's mailbox exactly on the day that they could use a little pick-me-up or reason to smile. My dear friend Jodi has a way of doing this!
So, if you had to send seven cards in seven days, who would be on your list? Maybe an old friend who you've lost touch with. Maybe your parents to just say, Wow! You guys deserve medals for making it through this parenting thing! Or maybe you have a special little someone who is off at Summer Camp and could use a little note from home.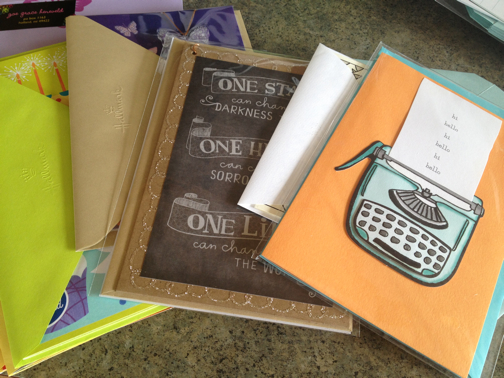 There are just so many little reasons to send cards. Some of mine included saying hi to an old friend, saying thanks to a friend who helped me with a special project, and sending encouragement to another friend who is going through a difficult time in life. I know it meant a lot for these friends to get my small note in the mail but it meant even more to me to take the time to do this. It was a fun thing to do with my girls!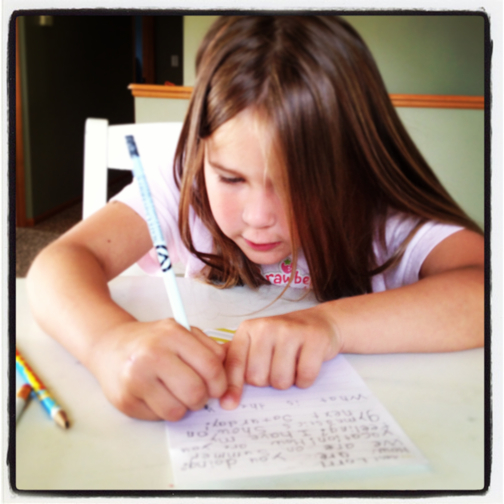 Now it's time for you. I'm encouraging you to take the Get Carded Challenge! It's so easy! Each day, for a week, drop a little card in the mail to someone in your life. To help get you started, Hallmark is offering my fabulous readers a 30% discount on cards purchased at Hallmark.com! Just use the code BLOG30 at checkout.

Bloggers! This one's for you — If you're interested in signing up for the Get Carded Challenge and want to share your experience with your fabulous readers, head over to the Get Carded Challenge page and fill out the form.
Oh, and if you need my address, well…you just let me know!
I am working with Hallmark on a compensated campaign for Get Carded 7-Card Challenge. All opinions are my own.