Fourth of July is just around the corner, which means all sorts of parade-picnic-light up the sky goodness! But did you also know that the Fourth of July holiday can also be very dangerous, especially for dogs!
After packing up your diaper bag, beach bag or picnic basket, don't forget to pack a "Dog Bag"! What's a "dog bag", you ask. It's so simple! A "Dog Bag" is a bag you pack with a few simple items to keep your pup happy and safe during your Fourth of July outings! Here are a few ideas:
1. Leash
Sounds like a no-brainer but you may not think about this if you're hanging out in your backyard or at a friend's house. But even the best behaved dogs should be leashed when it comes to fireworks time! A dog's hearing is far more sensitive than ours. The booms and cracks of those beautiful fireworks can scare a dog and hurt their ears. The noise can even cause dogs to run away! If you are unsure of how your dog will react to the fireworks, be sure to keep them leashed so they do not run away. If you know your dog doesn't like the noise, consider keeping them home or board them with a trusted kennel for the night.
2. A favorite chewie
Dogs like to chew on things, especially puppies! Unfortunately, they don't always know what is safe or not safe for them to be chewing on. During a time where the ground may be riddled with kids' toys, picnic stuff, and remnants of fireworks, firecrackers and sparklers, keep an eye on your dog and the area around him. Watch to make sure he is not munching on anything that might harm him and bring along one of his favorite chewies to keep him busy!
3. Food from home
Ah, the oh so yummy picnic foods! But did you know that many picnic foods can be toxic to dogs? For example, grapes and raisins can cause kidney failure in pets! Scary! Be sure your pooch is only eating his normal dog food during the holiday and don't be afraid to ask friends & family (& strangers) to refrain from feeding him table scraps. No one wants to deal with a sick dog!
4. Hydration Station
Just as people can get dehydrated during those hot summer days, so can dogs! Take along a small bowl to your holiday festivities and remember to fill it with fresh cool water throughout the day for your dog. A collapsable bowl works great if you're going to be on the go on the Fourth! Just simply pack it along and keep him drinking!
5. Treats!
There's no doubt that you will be around people during the Fourth. Whether it is a parade or picnic or taking a walk downtown or on the trails, if the weather is nice, you'll be around people. And there is nothing quite like a dog to attract kids! Like moths to a flame, most kids are drawn to dogs!
Jasper absolutely adores people and we've worked hard to train him to behave in busy places. We've trained him to sit and not lick so people can enjoy meeting Jasper and petting him. Of course we want to keep him trained like this so we're happy to reward his good behavior. This Fourth we'll be packing along a bag of Nudges Premium Jerky Cuts dog treats with us on our outings!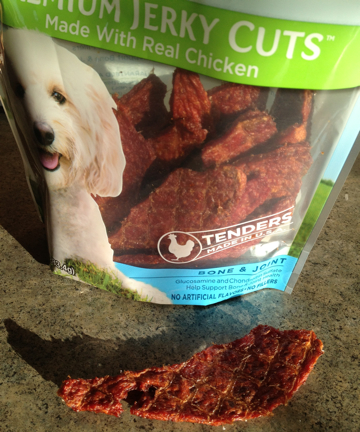 Nudges are a jerky style dog treat with no artificial flavors or fillers. Made in the USA, these dog treats easily tear apart, making it convenient if you have dogs of different sizes. Also, I love the idea of being able to tear off small pieces so we can multiple times during our outings without the worry of over treat-ing him. And kids LOVE being able to give Jasper a treat after instructing him to sit and shake!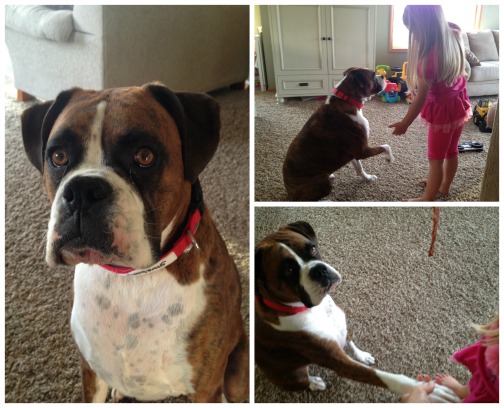 The resealable bag makes it very easy to toss them inside your "Dog Bag" to easily reward your dog for all his great behavior this Fourth! Find them at your local Walmart while you're stocking up on all of your Fourth of July goodies!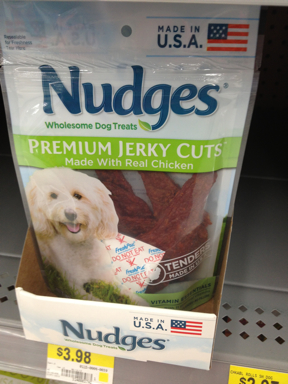 That's it! Five simple things to toss into a bag to keep that fabulous furry friend of yours happy this Holiday!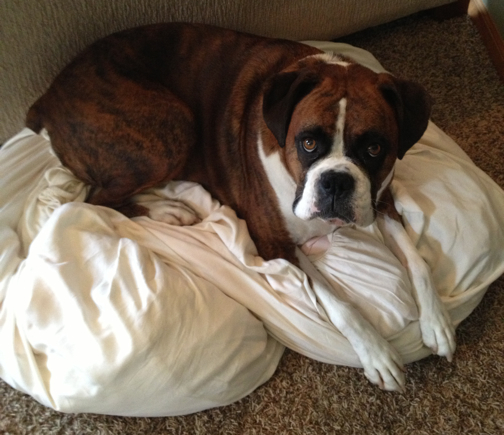 Want to learn more about Summer pet safety? Be sure to join Collective Bias and Nudges for a fun Twitter Party on July 3rd, 1-2 EST — http://cbi.as/a0r2t. Also, be sure to check out Nudges on Facebook where you can share your "nudge" moments for the chance to win some fabulous prizes!
For more Summer fun ideas (including Nudges dog treats), check out the Summer issue of Live SoFab!
Now, tell me, what else would you include in your "Dog Bag"?