Earlier this Summer I told you guys about my woes with Lactose and even debunked some of those Lactose Intolerance Myths. One of my biggest struggles with lactose intolerance has been on the cooking side of life. While dishes with splash of milk are typically fine for us to eat, it's those oh-so-yummy creamy delicious dishes that get me.
I mean, who can turn down a pasta dish with a creamy sauce? Or chicken smothered in a thick cream sauce? I love it! But I pay for it. And, because I always looked at Lactaid as a bit different than regular milk, I never really thought about cooking with it. Would it react the same as milk? Cook the same? Taste the same? 
That's why I'm pretty excited that celebrity chef Melissa d'Arabian has partnered with Lactaid to show us how easy it is to create lactose free or lactose reduced dishes using Lactaid! You can find a whole list of recipe ideas at recipes.lactaid.com! Melissa has even stopped by the TODAY Show to show you how easy it is!
Seriously, doesn't that chicken smothered in that creamy mushroom sauce look delicious! And totally lactose free!
So, I decided to try my hand at switching one of our favorite desserts to a lactose free version — Chocolate Pudding Pie!
I've taken one of my favorite recipes for Chocolate Pudding from Smitten Kitchen and modified it to be lactose free and be pie-able. You can find the original recipe at SmittenKitchen.com. Here is my Lactose Free version:
Lactose Free Chocolate Pudding Pie
1/4 cup cornstarch
1/2 cup sugar
1/8 teaspoon salt
2 1/2 cups whole Lactaid milk
6 ounces semisweet chocolate chips
1 teaspoon pure vanilla extract
Graham Cracker pie crust
Whipped topping of your choice
Crushed toffee candybar pieces (optional)
1. Combine the cornstarch, sugar, and salt in a double boiler. (If you don't have a double boiler, Google how to make one. It's really easy with a bowl, pot and some water.) Slowly wisk in your Lactaid milk, making sure you're getting all of the dry ingredients mixed in.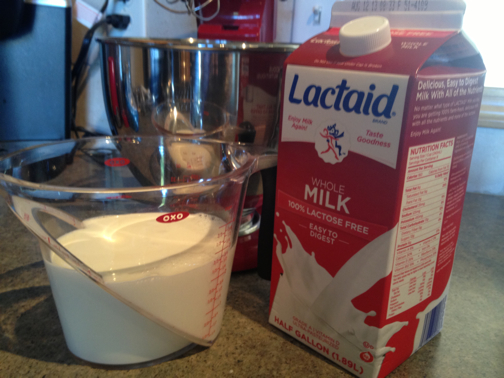 2. Move mixture over a pot of gently simmering water and stir occasionally, keeping it lump free. After 15 or 20 minutes the mixture will start to thicken. When it's thick enough to coat the spoon, add your chocolate. Mix for 4 or 5 more minutes or until the pudding is smooth and thick.
3. Remove from heat and stir in the vanilla.
4. Now, Smitten Kitchen mentions straining your mudding through a fine-mesh strainer to remove any lumps in your mix. Mine was virtually lump free (or so I told myself) so I went ahead and poured my pudding into my Graham Cracker pie crust. Gently cover your pie with some plastic wrap and place in the refrigerator for at least 30 minutes.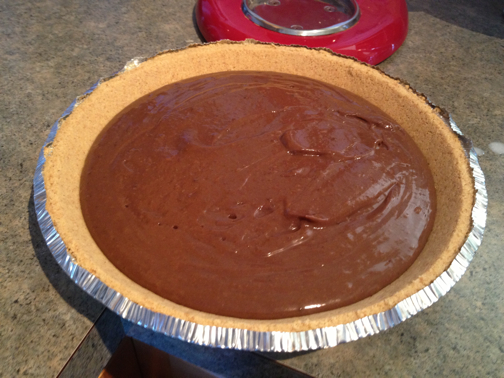 5. Remove pie and plastic wrap and top the pie with your favorite whipped topping. You can make your own (over achievers) or look for a great lactose free option in your grocer's freezer section.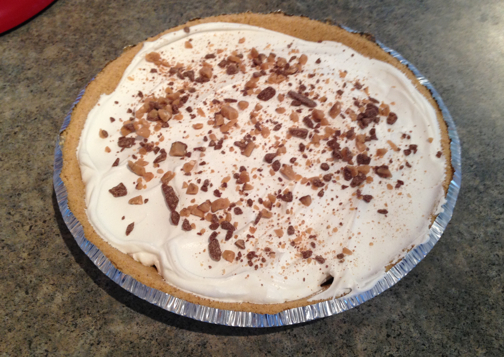 6. Really wow your family or guests and dress up your pie with some sprinkled on crushed toffee candy bars or drizzle on some light chocolate sauce! Serve and devour!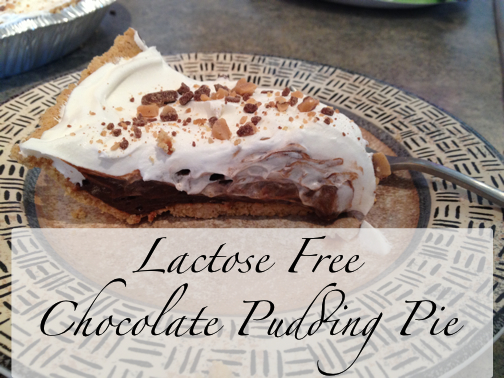 If you're thinking of substituting Lactaid in your next "milk-based" recipe, here are a few tips from Melissa:
Most recipes can swap Lactaid for regular milk cup for cup. Most people will not notice the slightly sweeter taste of the Lactaid milk.

When substituting Lactaid for cream in recipes, work in a teaspoon of corn starch.
Substitute lactose-free milk for buttermilk by adding vinegar
There you have it. Super easy!
Don't forget to check out all of those Lactose-Free Recipes at Lactaid.com! And if you come up with new Lactose Free dish to die for, be sure to share on Lactaid's Facebook page so we can all enjoy it!
I'm working on this information sponsored campaign with LACTAID and The Motherhood. All opinions are my own. Please consult a doctor if you should have any questions regarding nutrition, etc.
.