The Lone Ranger hits theaters today! Before you head out to the theater and butter up that popcorn, I've got the low down on the film for you!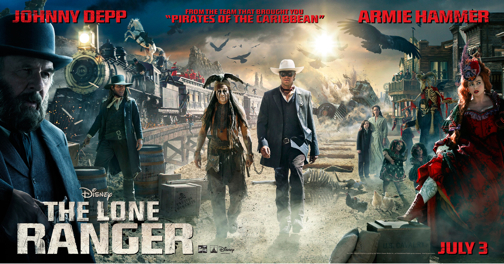 I was able to see a screening of Disney's The Lone Ranger earlier this week and I will say that the film does not disappoint!
Starring the ever entertaining Johnny Depp and the dashing Armie Hammer (The Social Network, Mirror Mirror), the film takes you through the back story of how the Lone Ranger came to be and how his kinship with Tonto developed. In short, if you've never seen an episode of "The Lone Ranger", you will not be lost when watching the movie.
I thought the storyline itself was great! A fabulous mix of drama and comedy and twists that will keep you guessing at what will happen next or how Reid/Lone Ranger and Tonto could possibly get out of that predicament! My favorite part though was how the story of Tonto and The Lone Ranger was introduced to the audience!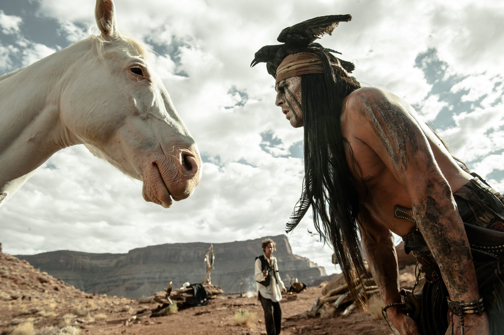 The movie is rated PG-13 and I would say that it holds pretty true to that rating. There are some pretty intense scenes, adult situations, and adult humor that isn't appropriate for younger kids.
I heard one person say that The Lone Ranger is Pirates of the Caribbean meets Wild, Wild West and I would agree with that. But in a good way! If you enjoyed Pirates of the Caribbean, then I have no doubt you'll love The Lone Ranger. This dynamic team of Jerry Bruckheimer (producer), Gore Verbinski (director), and Johnny Depp (executive producer, actor) makes for some pretty amazing cinematic magic!
The Lone Ranger opens nationwide today!
Will you be heading out to see "The Lone Ranger" this weekend? Have you watched any of the original episodes of  "The Lone Ranger"?
I received complimentary tickets to see an early screening of this film. All opinions are my own.