Today my grandparents would be celebrating their 61st Anniversary. They are no longer with us but I have no doubt they are celebrating together in eternity.
It's very selfish of me to wish they were here, celebrating with us instead. But I do. I'd love to be sitting on their back porch listening to stories. About how my grandma couldn't keep her eyes of my grandpa, or so he thought. A war-time marriage that withstood the test of time and distance and four kids and twelve grand kids and many great grand kids.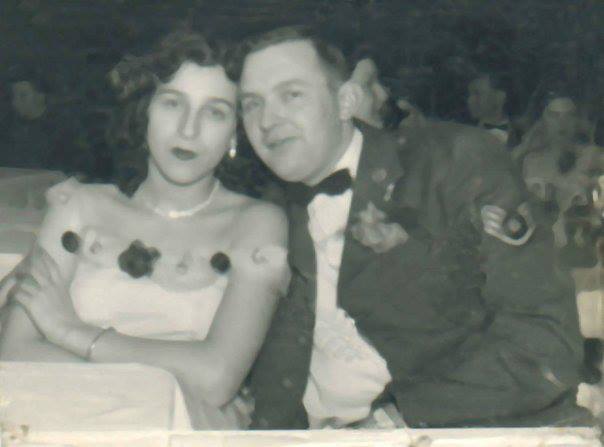 What I learned from him about marriage…
He would joke and say, "As long as the little woman is happy…" But I think he truly believed that. That's not to say that my grandpa didn't make choices that displeased my grandma. I actually know he did. But I also believe he tried very hard each and every day to make her happy. And he would tell her she was beautiful every chance he got! Giving her a little pat on the behind. Saying how he'd never figure out how a "good lookin' gal ever ended up with a poor sap like myself".
What I learned from her about marriage…
My grandma did a lot of things really well but I think her greatest accomplishment was loving and respecting my grandpa. As I said, there were definitely things they did not see eye to eye on but she respected his decisions and stood by him. She stood by him as he finished out his time with the military, often meaning she was raising their four kids alone while he was stationed somewhere else. She stood by him as he decided to purchase a little ol' bar in Northern Michigan. And stood by him again as he just couldn't stand by and watch that bar go under. She stood by him. Not behind him or in front of him. By him.
Their love story is nothing of epic stature. Just a simple love story of a boy and a girl who followed their hearts, overcame obstacles and left behind a beautiful legacy.