Did you know that October is Domestic Violence Awareness month? Don't worry, I won't judge if you say Hmmm, nope. I had no idea. After all, Domestic Violence isn't something we really like to talk about as a society.
It's an issue that all too often stays behind closed doors. Drawn curtains. Sunglasses and makeup. "What happens in a person's home, stays in a person's home." It's really sad, but sadly it's true.
The Allstate Foundation is on a mission to help pull back those curtains and shine light on this problem that affects one in four women in their lifetime. One in four? That's more women than breast cancer, ovarian cancer and lung cancer combined. Domestic Violence deserves to be talked about.
Through its Purple Purse campaign, now in its third year, The Allstate Foundation has pledged to donate up to $350,000 to the YWCA for programs designed to assist survivors of domestic violence and other women in need.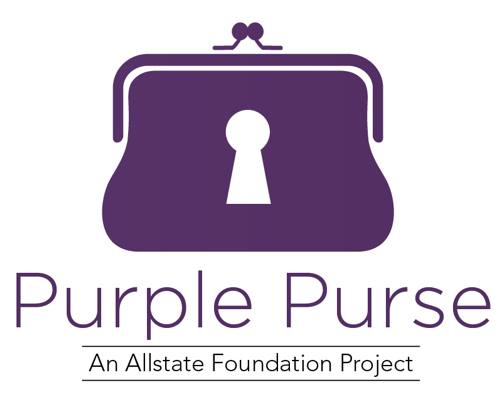 Throughout October, The Allstate Foundation has sent more than 1000 purple purses throughout the country as a part of The Purple Purse. Each purse includes information about domestic violence. The purpose is that women will pass those purses and their information to co-workers, friends, family, and neighbors to help spark the conversation about Domestic Violence. And, for every purse that is passed through October, The Allstate Foundation will donate $5 to the programs of YWCA.
If you don't have an actual purple purse to pass on, no worries! You can still help by passing a virtual purple purse at PurplePurse.com. Currently, over 80,000 purses have been passed. I bet we can make it 100,000 by the end of October!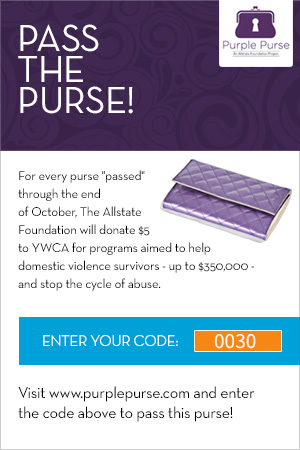 It's a simple act. A simple gesture. But you never know what might be happening in the life of the woman you pass that little purple purse on to. Or maybe it's the woman she passes it along to. Or the next.
This post is part of a sponsored campaign with The Allstate Foundation and MomSelect. All thoughts and opinions are my own.