Whether you are looking for a fun stocking stuffer idea or a great gift for that out-of-town niece or nephew, here's an idea they'll love:

Sports Illustrated Kids is a great magazine that is packed full of photos, easy-to-read stories, comics, activities, and more that your young athlete will love! 
Gifting a magazine like SI KIDS is perfect because it's great for either boys or girls, no wrapping required, and it's delivered right to their door! A gift that keeps giving all year long! I don't know about you, but my kids love getting their very own mail. I know they are going to love getting Sports Illustrated Kids this year!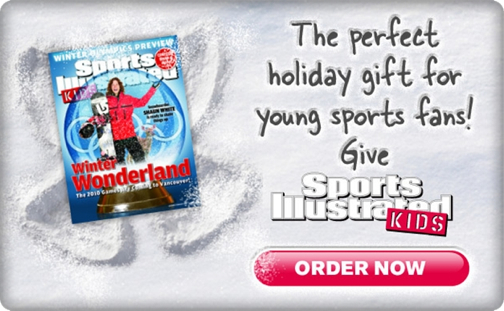 To start your subscription to Sports Illustrated Kids or order that gift subscription, just head over to SIKids.com! Oh, and here is an exclusive deal just for you!! Purchase an entire year (12 issues) of SI Kids (in print or on your tablet) for $19.95 and you can send a second gift of 12 issues for only $5! Just visit sikids.com/gift and you just became the coolest Mom/Dad/Aunt/Uncle! You're welcome.
This post is a sponsored post on behalf of Childs Play PR and Sports Illustrated Kids. All opinions are my own.