Despite my best efforts to stay on-top of things during the holidays, I always seem to procrastinate or just plain ol' forget something. And trying to throw a super awesome gift idea together at the last minute is not fun. First you actually have to come up with something and then you have to battle the lines at the store to make it all come together. All with a holly jolly spirit!
So, here is my secret for shopping for those hard to shop for people (think bosses, neighbors, co-workers, teachers, party hosts, dog groomer…you get the picture) :: Hickory Farms!

For more than 60 years, Hickory Farms' yummy treats and gift baskets have been a classic holiday tradition amongst so many friends and families. They almost go hand in hand with the holidays. I can't remember a Christmas party where there wasn't a platter of meats, cheeses, and crackers to enjoy while you caught up with family and friends.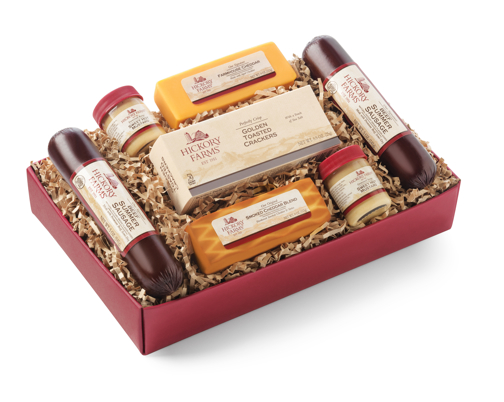 Now I continue that tradition by giving Hickory Farms gift boxes and baskets to so many of the people on our holiday shopping list. Selfishly it's an easy gift for me to pick up because Hickory Farms has already done all the work for me. They have a variety of gift boxes & baskets ready to wrap or ship at any of their stores or kiosks or online at hickoryfarms.com. But I also know that it's a gift that people are going to love. They can share it with their family or co-workers or just hide somewhere and eat it all themselves. No judging.
Because Hickory Farms has made gift-giving a little easier for me, I'm able to spend more of my time doing the Christmas traditions I love with my family!
GIVEAWAY!
Hickory Farms wants to help you enjoy your holiday traditions, or maybe even create some new ones, by giving away a Hickory Farms holiday gift basket here at Stacey Says! Keep it for yourself and wow! your holiday guests with a delicious platter of yumminess or give it away to someone special on your shopping list! To enter, simply use the Rafflecopter form below.
Compensation and products for review were provided by Hickory Farms via MomTrends. I received a free sample of the product for the purpose of this review and to facilitate a giveaway.  The opinions expressed herein are those of the author and are not indicative of the opinions of Hickory Farms