I remember when I was a kid turning on the tv before rushing down to the bus stop to watch Mr. Rogers' Neighborhood. There was just always something warm and comforting about that show. From his signature song to a magical trolley that could take you to a Land of Make Believe, there was just something about it. And how often would a girl from small town northern Michigan get to see how crayons are made. Awesome!
And while I truly wish my kids could watch Fred Rogers every day, I'm so glad to see that his legacy has continued on with the animated series of Daniel Tiger's Neighborhood!

Last week I had the chance to chat with some of the amazing people behind Daniel Tiger's Neighborhood to see what they have in store for the show and some new toys! 
If you remember Mr. Rogers' Neighborhood at all, you'll notice so many similarities between that and Daniel Tiger's Neighborhood. No, it's not the same show just in animated form. Instead they've truly created the next generation of the "Neighborhood"!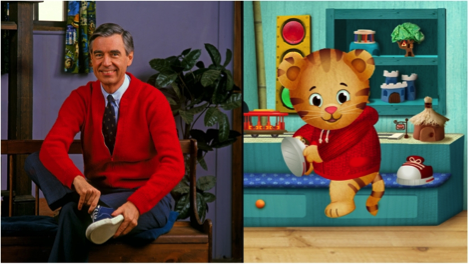 Created for preschoolers and premiering just over a year ago, Daniel Tiger's Neighborhood features characters who are the children of the characters we knew from Mr. Rogers' Neighborhood. For example, now we follow Katerina Kittycat, daughter of Henrietta Pussycat and Miss Elaina, daughter of Lady Elaine Fairchild and Music Man Stan. And the show takes place in the beloved "Land of Make Believe".
DID YOU KNOW :: Fred Rogers was the puppeteer and voice of the original Daniel Tiger puppet in Mr. Rogers' Neighborhood, who is now the young Daniel Tiger's dad!
If you are already a fan of Daniel Tiger's Neighborhood (of course you are), you'll be delighted to hear that they have new episodes coming our way! "Snowflake Day" will premier November 25 and "Daniel's Big Feelings" week will premier February 17.
There are also some very fun new toys featuring Daniel and friends, including plush dolls, singing plush dolls, figures, an actual Trolley that moves, and some super fun playsets. Music? Look for your favorite show songs on iTunes. T-Shirts? Check out the PBS Kids Shop for shirts you can personalize. Other clothes, pjs, and books? All coming soon!
Obviously I kind of love Daniel Tiger's Neighborhood. It's so fun that all three of my kids can watch it together and they carry many of the themes throughout their day. I often hear Zoe singing Daniel's song about washing her hands after going potty or his song about cleaning up. And Talon, well, my heart melts every time he puts his nose to mine and says "ugga-mugga, mom".
So, if you, I mean your kids, love Daniel Tiger's Neighborhood be sure to check out those new episodes and those fun toys (perfect for Christmas). And, if you haven't checked out Daniel Tiger's Neighborhood yet, now's a great time! Visit PBSKids.com to see when it airs on your local PBS channel.
I participated in this program on behalf of The Fred Rogers Company and The Motherhood. All opinions are my own.