Despite my hell-bent attitude to get my Christmas shopping done early each year, I always, always, always have gifts that I'm looking for last minute. It's just a fact of life.
Thankfully, this year, HP Canvases and Meijer have come to my rescue with a gift that's fabulous, affordable, and I can still get it in time for Christmas!!!

Whether you're looking for a little artwork to warm up your walls for the holidays, looking for some new decor for the New Year, or need a gift for someone on your list, HP Canvases are the perfect solution! And so easy to do!!!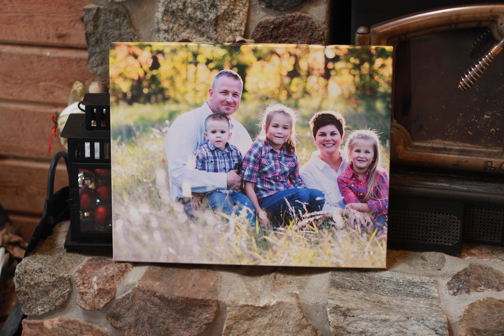 Aside from the canvas print turning out beautifully, I was blown away with how easy this was to do! I just simply selected the Meijer Photo Canvases option hosted with Snapfish. Selected the canvas type I wanted (I went with the single canvas but the Canvas Gallery would be very fun) and selected the photo I wanted printed. Easy!
Now, don't freak out about those prices because, remember, I did say this was an affordable gift! After you add your canvases to your cart and proceed to check-out, you'll see the option to either have your canvases ship to you or pick them up in-store. PICK THEM UP IN-STORE!!!! I repeat — PICK THEM UP IN-STORE!!!!
By picking up your canvases at Meijer, you'll be paying a fraction of the price! I placed my order online and received an email notification that my canvases would be ready the next day at the Meijer I selected in their Photo Department. And you don't even have to pay online! Simply pay at the store when you pick up your canvases.
Let's face it, you know you always have stuff to pick up from the grocery store. So just swing by the photo department and grab that canvas while you're picking up your groceries!
Again, the Price + the Convenience + the Quality = an amazing gift I'm excited to give this Christmas!
Want more tips and tricks on decorating with photo canvases this holiday season or in the New Year? Check out HP's Warm Up Your Walls tips with interior designer Genevieve Gorder.
This post is a sponsored post with HP and Meijer Photo. All opinions are my own.