This New Year cleaning resolution tips post is brought to you by Mr. Clean as part of a Type-A Parent Community Sponsored Post.
If you've read this blog for any amount of time or know me personally, you probably know that I'm not the type of person to make Resolutions come January 1. They just never work out for me. But there is something about a fresh new year that spurs me into this Get Organized & Clean House mentality.
Don't get me wrong, I don't go all cleaning-ninja on January 1st. I usually wait until I've about had it with the Christmas decorations around my house and random new presents from the holidays still sitting in my living room and then I start! Also, I find keeping my house organized and clean during the Winter months gives me some sort of hold on my sanity. Once Summer comes, all bets are off!
Here are my 5 tips for Getting Clean & Organized in the New Year ::
1. Make your bed!
You probably just rolled your eyes as you had flashbacks of your mom nagging you as you read that. But your mom was totally on to something!
The first thing I do after I'm showered and the kids have been fed is make my bed. There is just something about getting that one piece of my life organized that gives me a jump start to my day. Sure, the toddler will be in there making a fort out of my pillows in a few hours and all that effort will be lost, but it's the initial effort that gets me going. Bed is made, I'm ready to start the day!
And, seriously, it takes a total of five minutes. Do it.
2. Make a cleaning schedule.
If I left all my cleaning for just one day a week, I would despise that day. And then I would probably become this giant ogre that jumped down my kids throats for messing up the house because, after all, I just spent my entire day cleaning that house! So, to save my sanity and my kids' throats, I break my cleaning up throughout the week. Sure, it could be argued that I'm then cleaning all the time, but it's smaller, more manageable times.
Each day I focus on cleaning one part of the house. Monday may be floors, Tuesday – bathrooms, Wednesday – laundry (which usually trickles over to Thursday), Thursday – windows, Friday – kitchen deep clean. Then I also try to focus on one deep clean/organization spot each week. This week might be the bedroom closets, next week – pantry, then my office (damn you, filing), kids' toys, etc. By the time I make it through everything, I'm ready to loop back and start again.
3. Cleaning caddy.
One of the biggest adjustments I've made recently is creating a cleaning caddy. A little bucket or basket that holds all my regular cleaning supplies. Everything I need in one place that I can take with me from room to room. It's amazing how much time it saves me to have all my cleaning supplies together and totable. I'm not running back and forth to the back closet to grab window cleaner or wipes or the dusting cloth. It's all right there. And, honestly, if I had to run back to grab the window cleaner, I guarantee I would just say, "Meh, the mirror isn't that dirty. I'll just remember to clean it when I cleaning windows later in the week." (Which never happens.)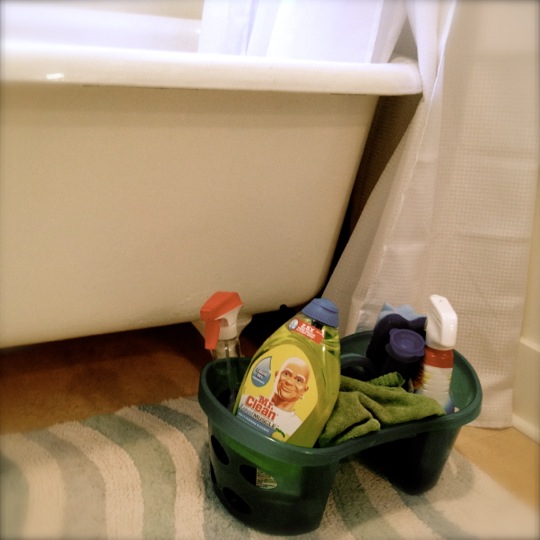 4. Enlist the kids.
While my girls, every once in a while, will volunteer to help me clean, it usually lasts only about a minute and they really only want to dust because they think the duster is super fun. (Yes, I still take them up on their offers, regardless of how short lived they are.) There are certain areas in the house that the kids are responsible for — their bedrooms and the back entry (where their coats, snow pants, boots, & backpacks go).
The rule is — If I have to clean up either of those areas, the stuff I pick up becomes mine (i.e. goes in the trash or the Chore Box).
Maybe for you it is assigning the easier cleaning tasks to your kids as weekly chores. However it works for you, as long as it is not creating more work for you.
5. Hire in the big guns.
I am a huge supporter of hiring in the professionals once or twice a year to tackle the big jobs. Whether that means getting the carpets steam cleaned, all of the exterior windows professionally cleaned, taking the car to get detailed after a long and brutal Winter, or just simply hiring a cleaning service to do a major deep clean on your house. It's worth it! It gives you a break and allows a professional service to work their magic on your house!
I'd love to hear your Cleaning Tips for the New Year! What new ideas are you implementing or what are your tried & true methods?
This is a compensated post brought to you by Mr. Clean. Mr. Clean is kicking off the New Year with the launch of a new product called Mr. Clean Liquid Muscle, a new multi-purpose, multi-surface concentrated cleaning gel that delivers superior cleaning performance on and off the floor. Be sure to like Mr. Clean on Facebook and follow @RealMrClean on Twitter.