I'll just say it…"I have become a fundraising Scrooge!"
I feel horrible about it. Most days. But then another flyer gets sent home about yet another fundraiser and I let out a big ol' "bah-humbug" as I toss it in the pile on the kitchen counter.
I'm really sorry, teachers. Or maybe it's the school administrators. Or PTO. It really doesn't matter who it is. I'm seriously tired of these fundraisers.
Yes, I know they are all good causes. And I'm a total sucker for a good cause. But enough is enough!
Sure, the fundraisers are all very simple. Just ask your friends and family for donations. Except I'm tired of sending out the emails asking for friends and family to contribute to these. But I have to because do you see the look on my kids' faces when they flip through the fundraiser brochure and realize they'll get a plastic duck or giant lollipop or whatever other dollar-store garbage prize, all for just raising $10. But wait! If you raise $25, you'll get the duck and the lollipop. And for $100 you'll get the duck, lollipop and a t-shirt (that you'll never wear because it will inevitably be super wide and super short). And it's for a good cause, Mom!
Hi, my name is Stacey and I'm the fundraising Scrooge. Nice to meet you.
Let me rewind just a minute (and assure you that I'm not a complete ass). I do appreciate fundraisers and willingly participate. Earlier this year Abbi's class did a fundraiser to help provide clean-water filters for people in Rwanda. And I loved it. But here's the key difference — That fundraiser gave people something for their donation aside from the feeling that they were doing awesome in the world (a handmade ornament) and my child received nothing in return. No hopes for a new toy that will break in a day. The only thing she got out of it was the satisfaction of doing something awesome for others. And a lesson in hard work and humanity. Win. Win. And Win.
But, I digress. Let's get back to me being a colossal fundraising Scrooge.
Yesterday I learned about yet another fundraiser. And just before I opened my mouth to spout out some garbage about how I'm fed up with fundraisers, my daughter opened her's.
Abbi: "Mom, did you see the paper in my folder about the Heart people (American Heart Association)?"
Me: "Yes, I did." (grumble, grumble, grumble)
Abbi: "I didn't know people needed help with their hearts. I'm going to put my teeth out (the two she had pulled a week earlier) for the tooth fairy tonight and give that money to the Heart people."
Me: silent
Abbi: "And do you think if I shovel porches and sidewalks for people that they would give money to me for the Heart people, too?"
Well, shit. Now I really suck.
And who is this kid? This, the kid who cries when she sets out her teeth for the tooth fairy even when she knows it means money to buy new toys. This, the kid who only does the minimum required when it comes to extra chores to earn just enough money for toy she wants.
Not once did she say anything about just asking people to give money. From the minute she got that paper she was brainstorming ways she could work to earn the money to donate. And the tooth fairy money? Well, I would have placed bets that that money would have ended up in her little purse, ready to buy more rainbow loom bands. And I would have lost that bet.
After leaving a note last night for the tooth fairy, explaining what she was doing with the money, she put all four "gold" dollar coins in her donation envelope this morning.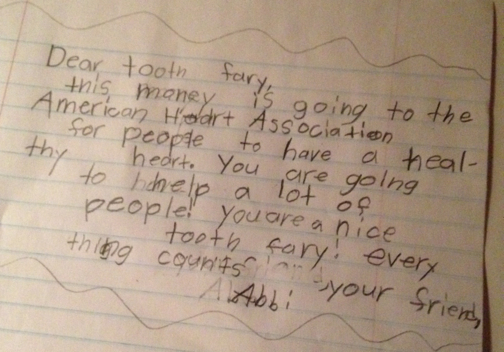 I wish I could say that all of this made my heart grow 10 sizes that day….well, I guess it kind of did. I mean, I'm super proud of Abbi. I love that she was thinking outside the box of ways she could earn money for this fundraiser. EARN money. So awesome of her. And I love that she wants to help others. That she's thinking about others. This makes all the other non-fun parenting moments totally worth it.
But my heart towards all these fundraisers is still pretty scroogey. Maybe I'll hang up my Scrooge hat when the weather warms up. When the sun is shining and my lawn is covered in soft green grass and not mounds and mounds of snow. I'm sure that's what will happen. I'll be back to my YES! Let's save the world one plastic duck fundraiser at a time-self this Spring.
So, maybe, until then, my dearest school teachers/admins/groups/sports/organizations, let's just put a hold on sending home another fundraiser flyer. Yes?
Please tell me I'm not the only parent who is tired of these….