Despite the fact that we are in the throws of yet another Polar Vortex, I do sincerely believe that Spring is on its way. I mean, it has to be. Right?
Regardless of what the meteorologists say, my calendar says Spring is arriving in t-minus three weeks! And that means we need to do some Spring shopping!
And Spring shopping could not have come at a better time! At some point in the last 30 days Talon has decided to go through a growth spurt! Leaving most of his shirts and pants embarrassingly small. Thankfully we can hide this fact with a big Winter coat and boots! Seriously, tuck the bottom of those jeans in some Winter boots and no one has any idea that they are looking more like capris than pants these days!
So, shopping. It's become a necessity at this point!
Thankfully Carter's, our 'go to' source for kids clothes, is having one of their fabulous sales!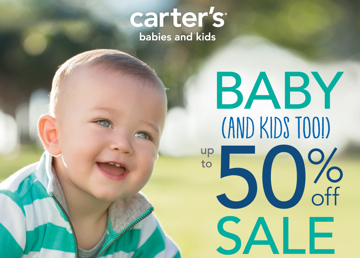 I've always adored Carter's for their fun clothes but, knowing that my little guy will be growing out of these clothes at warp speed, I appreciate even more that I can score some great deals and I don't have to worry about the clothes falling apart in their first wash. Meaning — they last and they won't bust your budget!
True story….poor Zoe hardly gets any new clothes because all of our Carter's clothes from Abbi are in ah-mazing shape, despite Abbi's messy demeanor. And the middle child syndrome continues. 
From now until March 4, you'll find deals both in-store and online with Carter's Baby and Kid "Up To 50% Off" Sale! That means tees, pjs, mix & match sets, shorts, and more at really unbeatable prices. But, wait! There's more! (I truly missed my calling as an infomercial spokesperson.) Shop your local Carter's store with this coupon and save an extra 20% off your purchase of $40 or more!!!
Of course they have tons of really cute little girl stuff in their new Spring Into Pink collection (love all those bright colors), but this year it's all about the boy! Here are a few of my favorite looks so far…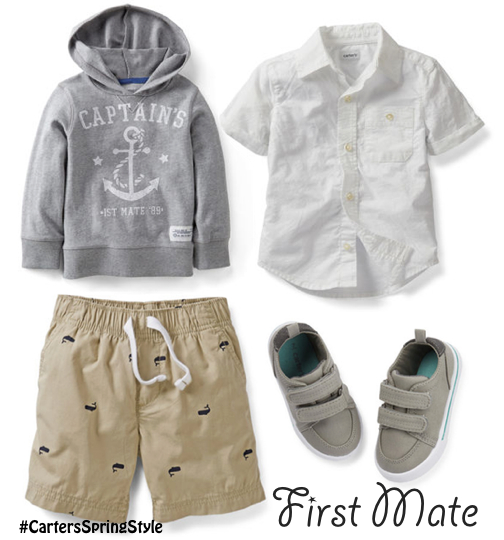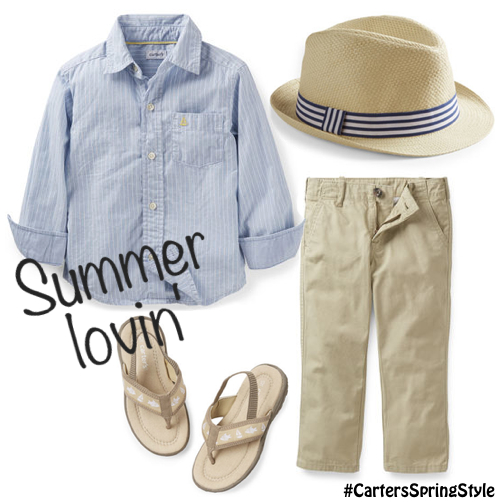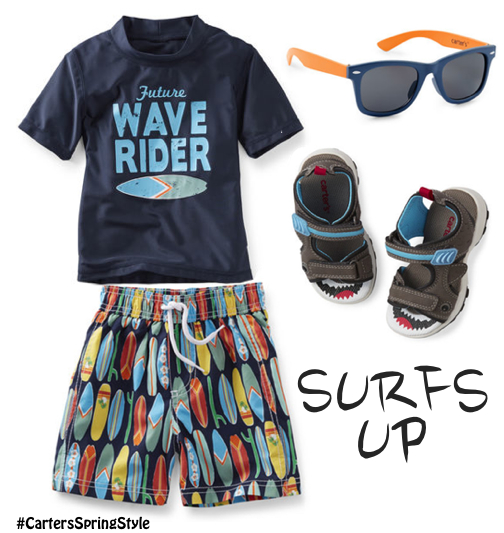 I also have a few more of my favorite pieces pinned for your viewing and pinning pleasure!
Ok, so it's not fair for me to taunt you with all these adorable pint-sized Spring fashions and not have something for you in return. So….
GIVEAWAY!!!
Carter's wants to help you welcome in Spring with open arms and cute outfits! And I think a $50 gift card to Carter's could do the trick!!! To enter, just use the Rafflecopter form below:
This post is part of a sponsored campaign with The Motherhood and Carter's. All opinions are my own.