I just want to throw open my windows. Let in all the fresh air. Blow out all the Winter cruds and blahs infesting this house!
Only, it's 12* today. And it will be 12* tomorrow. And, if we're lucky, it might hit the 20s soon or even inch above freezing!
You guys! I'm sick of Winter (big surprise there)!  I'm sick of the sniffles and sneezes and coughs and everyone feeling completely run-down!
While I can't change the weather (oh, how I wish I could!), I can be a bit more diligent in making sure my family is getting lots of nutritious foods to ward off these sickees and keep all those germ-collecting surfaces clean!
Last month Lysol asked me if I wanted to put my germ-fighting skills to the test. Armed with my Lysol products and our Lysol Cold & Flu Healthy Habits Calendar, the kids and I were ready!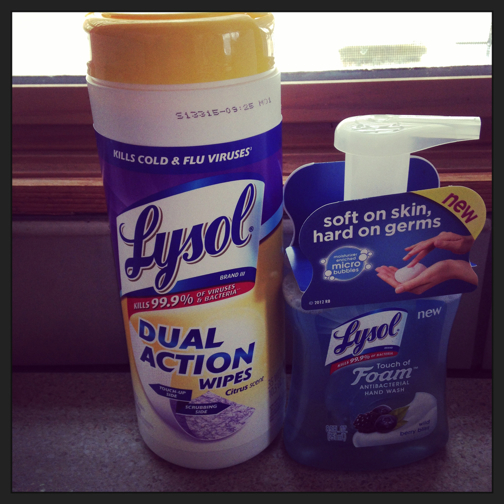 But then I was reminded that "clean" and "disinfecting" are not the same…
Cleaning only removes germs from surfaces, whereas disinfecting actually destroys them. (Centers for Disease Control and Prevention) The flu virus can live on surfaces for up to 48 hours!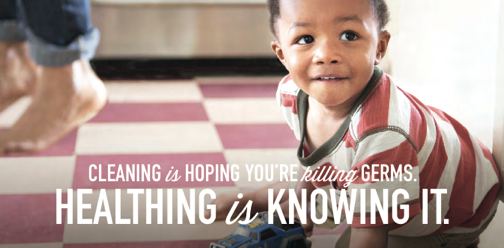 Umm…oops!
So, here's what we discovered in our Healthy Habits Challenge:
Brushing teeth & washing hands after the bathroom ~ Rockstars!
Washing the table after meals ~ Done! Trust me, that table needs to be washed after a meal in this house!
Covering mouths when sneezing? Yes! Washing hands after? Not all the time. Guess we better work on that! But, to be honest, I don't really think about it if my kids sneeze in to their elbows.  Hmm…
Disinfecting toys? This is where it really got me. The toys on the main floor of our house get a regular wipe down. Whenever I clean, they are in the cleaning path. But the toys elsewhere in the house? Well…out of sight, out of mind. Totally gross, I know! They maybe get cleaned once a year. Gah! I'm so sorry! Please don't come play with our toys. They are probably really gross!
Needless to say, I would be utterly embarrassed if the Lysol team showed up at my house today (or any day) and started swabbing surfaces and toys and kids' hands with little germ-detecting swabs. I can only imagine the amount of cruddies and yuckies they'd find! So I guess that m sans I need to be more on my cleaning AND disinfecting game!
Children can touch and retouch more than 300 surfaces in just 30 minutes. Imagine how much you could protect them — and proven them from spreading germs — by switching from cleaning to disinfecting! (CDC)
To be fair, I am not a clean-freak. I'm all for some "good germs" in our house. Yes, I'm sure my kids have and will eat dirt and all sorts of other things I don't want to know about! But if I can help keep some of those "bad germs" out of this house, then I consider that a success!
If you took the Lysol Healthy Habits Challenge, how would you do? Do you disinfect on a daily (or maybe hourly) basis or do you wait to reach for those Lysol Disinfecting Wipes and Disinfecting Spray when you hear the first signs of a sniffle or sneeze?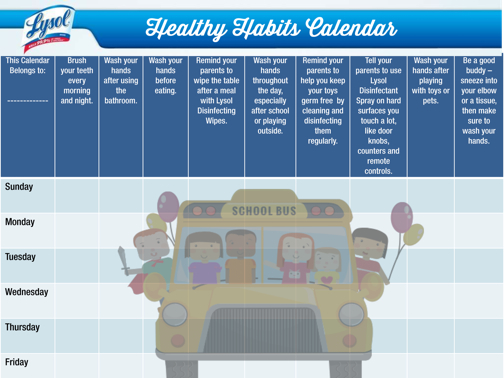 This post is part of a sponsored campaign with Lysol. As always, all thoughts and opinions are mine alone. And, I totally won't judge you if you don't clean your toys either!