As Spring Break quickly approaches (later this week for my kids), we have officially hit the homestretch of the school year. After Spring Break we have just 8 short weeks of the school year! Which may seem super short or super long, depending on how excited you are for Summer break to hit.
Regardless, I've noticed that my kids are starting to get a bit bored with their lunch selections just about this time of the year. I notice this mostly when they start begging for store-bought lunch in a box. Not because they sound delicious and are super filling and nutritious, but because they are different. And they come with a piece of candy.
We skip the school-provided lunches for a variety of reasons and I pack the girls lunches every day. And, although they get to pick what kind of sandwich (or bagel) they get each day and I mix it up with what fruit and "extras" I toss in there, I'm still sensing some lunch-time blahs.
Are you getting the same reaction at your house? Well, then let's help each other out! Here are five ways I'm jazzing up our lunches…check them out and then share with me your ideas! See, if we do this thing together, we just might make it through 8 more weeks of packing lunches!
1. Whoooo's ready for lunch?
My Kindergartener would flip if she opened her lunch and found this adorable owl-sandwich looking at her! Creating a cute character out of their sandwich or using cookie cutters to create fun shapes out of their sandwich will make lunch time super fun!
2. Goodbye, sandwich. Hello, lunch!
While character shapes might great for my younger daughter, her older sister would probably like these better! Using meat and cheese or fruits and veggies, create little shish-kabobs in lieu of sandwiches. Too little for shish-kabob sticks? Trim off the pointy end or find some non-pointy, reusable ones online! Other ideas could include doing a pasta salad, humus, lettuce wraps, or homemade pretzel dog bites.
3. Message in a lunchbox.
Create messages out of their food or add written messages to their lunch box. Slipping a fun riddle or word puzzle in with their lunch would be something fun they could share with their lunchtime friends! I love these little joke cards from Spoonful.com (lots of free printables there!).
4. A new juice for a new generation.
Apparently juice boxes are for "babies" or at least that is what I'm being told by my 2nd grader. So I'm giving her a little more grown-up flare to her lunch with Fruit Shoots. The bottled juice drink makes her feel a little more grown-up while the "YES" to real fruit-juice and "NO" to high-fructose corn syrup makes me happy. Also, the variety of flavors keeps her lunch new and exciting and the no-spill cap keeps her teachers happy!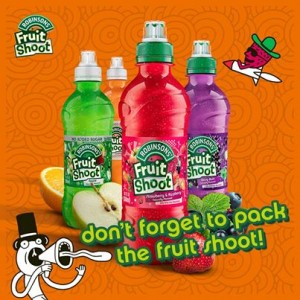 To find out more about Fruit Shoot and discover other fun lunch ideas, visit Fruit Shoot on Facebook!
So, how do you jazz up your kids' lunches as you hit the homestretch of the school year? 
This post is part of a sponsored campaign with Fruit Shoots. All thoughts and opinions are, as always, solely mine.