This post is part of a sponsored campaign with Tee See Tees. All thoughts and opinions shared here are mine and mine alone.
I am a Michigan girl, born and raised. And, while I don't always show it (especially this Winter), I really do love this state.
This St. Patty's Day I am so excited that I get to celebrate my little s lice of Irish heritage while supporting a fabulous new Michigan company. More so, I won't have to worry about any awkwardness resulting from wearing a "Kiss Me I'm Irish" shirt next week! This year I'll be Irishigan!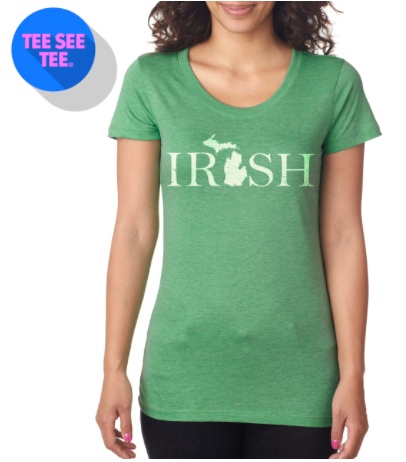 Tee See Tee, owned and operated by Beau Warren, is as Michigan as they come! All of the t-shirt designs are drempt up and created by Beau and each has a specific tie to the great Mitten state. A Michigan landmark. A Michigan staple. A nod to the Michigan of yesteryear. Or an inside joke that only locals would get or appreciate.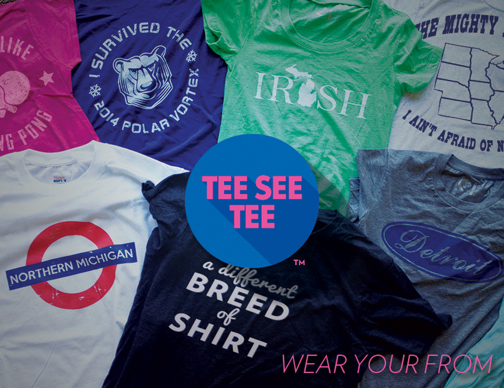 Aside from the Michigan pride, what I also appreciate about Tee See Tee is the quality and originality of their shirts. Each shirt is printed on Bella + Canvas Triblend Tees. Which translates into "Super Soft"! Like "I want to live in you. I'm never taking you off." favorite t-shirt kind of soft. They do run a little on the small side due to their "fashion fit" style, just to give you a heads up.
Here's another heads-up: If you like a design you see at Tee See Tee today, you better snag it while you can! This goes back to the whole originality thing that I mentioned before. See, Tee See Tee isn't content with printing the same ol' tee over and over and over again. Nope! Beau is constantly coming up with new prints, which means that the tee you love might not be around forever or maybe even very long.
Tee See Tees run between $20 – $25 and are available in both mens and womens sizes. To see their latest designs, including the Irishigan shirt (perfect for St. Patty's Day fun), and to place your order, visit TeeSeeTee.com. And visit them on Facebook and the Twitters.
GIVEAWAY!
Lucky you! Just in time for your St. Patty's Day or Spring Break fun, I'm giving away a tee from Tee See Tee! Winner's choice!! To enter, just use the Rafflecopter form below: