I am a member of the Collective Bias®  Social Fabric® Community.  This shop has been compensated as part of a social shopper amplification for #CollectiveBias and its advertiser. All thoughts and opinions are my own. #WalgreensRX
Somehow we managed to have three kids without any allergies. No food allergies. No environmental or seasonal allergies. And I totally grasp how lucky we are with this. But then I had to go and tempt fate and we ended up with a dog with allergies. Go figure!
The crazy thing about animals with allergies is that it is pretty difficult to pinpoint allergies with them. For example, I mentioned before that Jasper has taken to chewing on his paws. It started with one of his back paws. When we noticed it getting raw, we took him to the vet and it was determined that he must have gotten something stuck in-between the pads on his paw and it irritated it, causing him to chew on it. Solution: a topical spray to keep it from getting infected.
The chewing seemed to stop. Or so we thought.
At some point one back paw turned in to two. With both back paws irritated, our vet thought it may be an environmental allergy. We weren't using any sort of powders on our carpet so we thought it was something the landscapers were using on the yard at our condo. Solution: new topical spray and catching him when he starts chewing on his paws.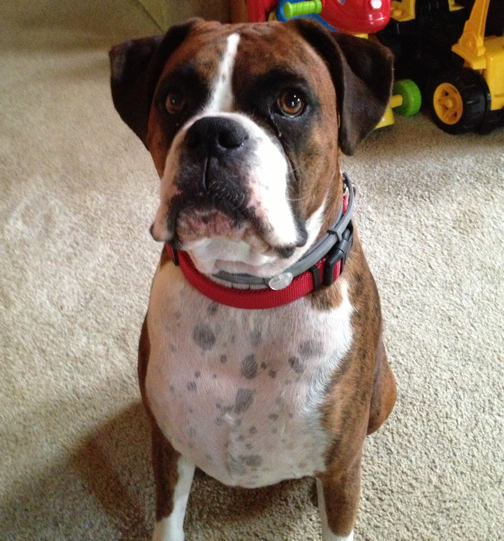 Fast-forward a few months. We moved from the condo to a rental and then to our current house. Jasper's paws weren't necessarily getting worse but they were not getting better. Then it happened. He began chewing on a front paw! On go the Socks of Shame.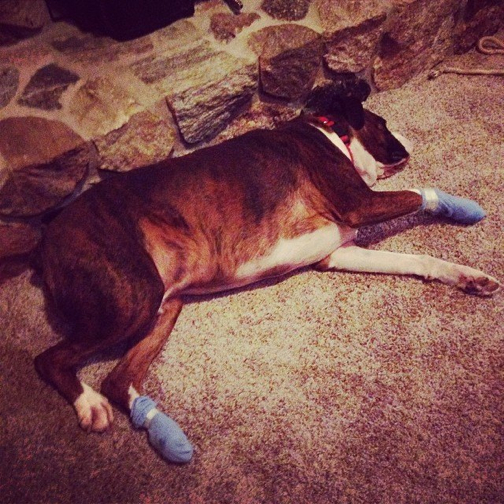 Back to the vet.
Verdict: food allergy.
Simple. Just eliminate that food. Except…we had no idea what food it could be. Wheat? Corn? Chicken? Beef? All of the above? And guess what…dog food is not sold in individual packages. Which means "trial and error" can become quite expensive! And food allergies can take 6 weeks to work it's way through the system. Which means a 6 week trial to only find the error. And dog foods are amazingly complex. You have to become well versed in dog food ingredients to make sure you're not buying a brand that sneaks in an allergy-inducing food ingredient. Ugh! Oh, and then there is the whole world of dog treats! AHHH!!!!
Thankfully finding a medication to help Jasper was much easier!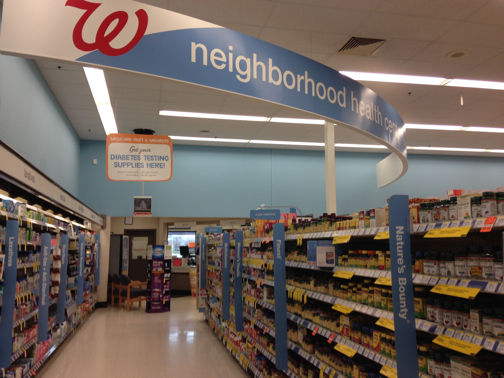 Did you know that you can get medications for your pet filled right at Walgreens? I had no idea! I always thought you had to go through the vet or some special pet medication place online. Nope! You can get the filled alongside all your other prescriptions at your neighborhood Walgreens!

You guys! This is super! Now, as we navigate between whether or not Jasper needs a prescription allergy medicine or something over the counter, we can do it all right at Walgreens! And, with their Automatic Prescription Refill service and Refill Reminders, I don't even need to be on the ball with this. My only job is to remember to give them to Jasper. And with three kids and two dogs (one being a new puppy), that's about all I can handle.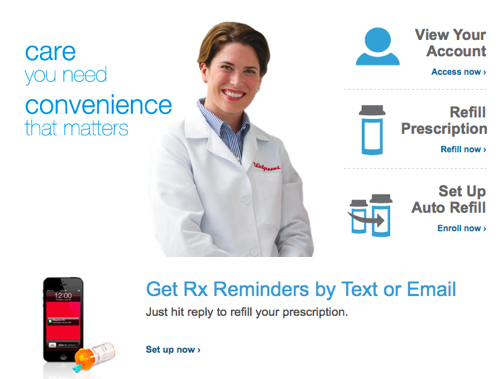 Oh, yeah, did you catch that part…we have a new puppy in the house. Fingers crossed that this little guy is allergy free or that at least he's not allergic to the food that Jasper needs now. But, I guess, if he does end up with allergies or needs any other sort of meds, I can always add him to our Walgreens.com account and I'll just keep racking up those Balance Reward points, which means money back in my pocket!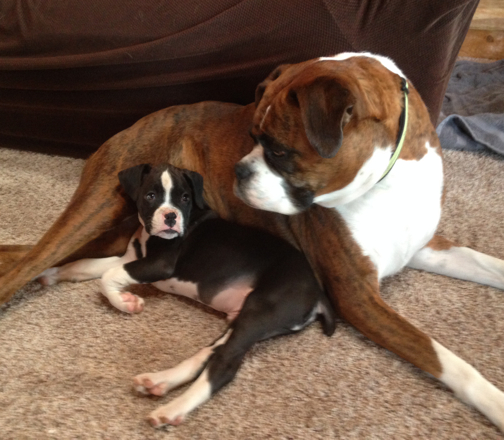 Do you have a pet with an allergy or is taking meds for another reason? Have you ever tried getting those prescriptions filled at Walgreens? Be sure to check it out and register your pet today!