Confession: I never brush our dog's teeth.
Now, some of you are gasping in horror and others are shrugging, saying 'no big deal'. But apparently Jasper has reached the age where dental hygiene is actually pretty important.
According to the ASPCA, "Veterinarians estimate that 85 percent of dogs over five years of age suffer from periodontal disease, which develops when food particles and bacteria collect along the gum line and form soft deposits called plaque." Yikes! 
Of course I want to keep our beloved Jasper as healthy as possible but I'm also a realist. I have three kids in addition to Jasper and a the new puppy. I consider it a very successful day/night if I remember to get all three kids to brush their teeth. The chances of me remembering to brush Jasper's teeth are not very good. And I'm guessing that, after 5 years of not having a toothbrush shoved in his mouth, he's not going to be too hip on the idea either.
So here are three ways we're going to continue to help keep Jasper's (and Dexter's) teeth healthy and strong:
1. Regular check-ups. No, not to the dentist. Although I bet our dentist would adore seeing Jasper and Dexter in her office! Instead we'll continue to make our regular check-ups with our veterinarian where they will keep an eye on the puppers' teeth.
2. Hard kibble. We've always done hard kibble for the dogs with the occasional soft, chewy treats. The hard kibble actually helps clean their teeth as they eat. Sure, their 'fish and sweet potato' food doesn't help with their breath but one battle at a time.
3. Treats that act as toothbrushes. My kids love any opportunity to reward the pups with treats. And the dogs are happy to oblige with a sit or shake to get the treats. While Dexter is still a bit too young, Jasper has been loving these new Milk-Bone® Brushing Chews™.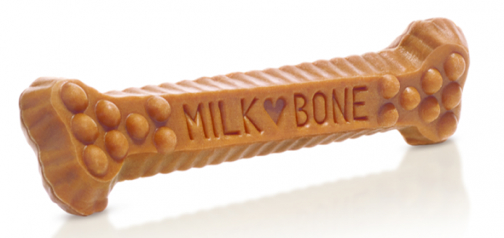 The specially designed 75 degree twist of the Brushing Chews helps the little brushing nubs on the treats to reach down the gum line and even reach those far back teeth. When fed daily, the Brushing Chews are clinically proven to be as effective as brushing your dog's teeth twice per week for reducing tartar build-up. Which sounds great to me because Jasper loves them! And they provide Jasper with 12 essential vitamins and minerals, including calcium.
They are also said to help freshen your dog's breath but I'm not getting up close and personal to Jasper's mouth so I can't tell you that for sure. But, again, they eat 'fish and sweet potato' dog food so I'm sure these aren't hurting anything when it comes to his breath.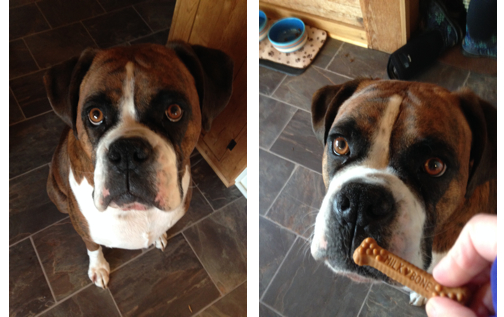 Once Dexter gets a little older, we'll let him partake in the Milk-Bone Brushing Chews, as well, in an effort to keep his little chompers nice and healthy!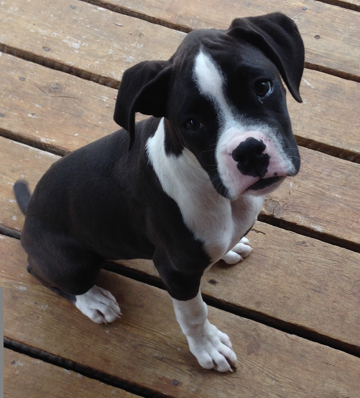 You can find Milk-Bone Brushing Chews at most major retailers and connect with them on Facebook, Twitter, and Instagram.
GIVEAWAY!
We're giving away a pack of Milk-Bone Brushing Chews and $25 Visa Gift Card! That's a treat for your pup and a treat for you!! To enter, just leave a comment below with your confession: Do you regularly brush your dog's teeth? 
*giveaway terms & conditions: This giveaway is open to legal residents of the US, 18 years and older. Winner must provide a US mailing address (sorry, no PO Boxes). Giveaway ends May 29, 2014 at 12pm EST. Winner will be contacted via email and will have 24 hours to respond with their shipping address. Super? Thanks!
This post is part of a sponsored campaign with Milk-Bone. All thoughts and opinions are, as always, my own.