I participated in an Influencer Activation on behalf of Mom Central Consulting for Cortizone-10. I received a product sample to facilitate my review as well as a promotional item to thank me for my participation.
I remember in elementary school one of my friends used to sing this little song  that started out saying, "flea, flea fly, flea fly mosquito!" and then went on to sing about getting bitten and how it itched. Catchy little thing that we used to sing all the time.
But it's not so funny when song becomes reality and you find yourself covered in bug bites!
This year the bugs have been ferocious! Our standard protocol has been: wake up, lather on the sunscreen, spray on the bug spray, go outside. And all is great for about 10 minutes. Then the mosquitos consider us fare game and go in for the kill. Or suck. Or whatever. We go running like crazy people into the house and there we stay. Tending to our wounds….errr, bug bites.
We all take turns dabbing on some Cortizone-10 Anti-Itch Creme. It's quite the site. But in no time our itches are no more and we're even toying with the idea of going back outside. And we would, if it weren't for the mosquitos hanging out by the windows smiling their wicked little smiles, just waiting to feast on us again.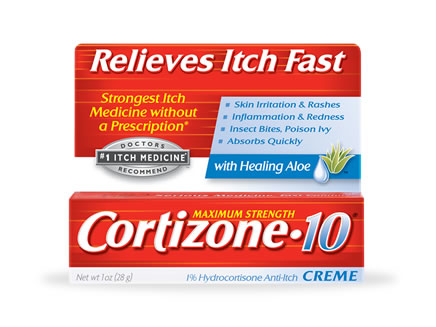 Unfortunately we can't let those pesky little biters keep indoors all Summer, so we are keeping stocked up on Cortizone-10 as we spend time in the yard and garden and head out camping.
And while I love that Cortizone-10 can take the itch away, especially for the kids, I'm still cursing you, you pesky little blood suckers!
Head over to Cortizone10.com to learn more about all of their anti-itch cremes and to find money-saving coupons to stock up for your Summer itchy-needs!