This shop has been compensated by #CollectiveBias, Inc. and its advertiser. All opinions are mine alone.
My husband often jokes that if I were to regularly volunteer my time at our local animal shelter, I would come home with a new pet every time. And it's so true! There is just something about knowing you're helping an animal. And somehow, of all things I could pass down to my child, I have seemed to pass this love for animals on to Abbi.
While she has a heart for helping people, her heart absolutely knows no limits when it comes to animals. It's one of the very best things about her.
So, when I told her that October is Pet Adoption Month, she immediately began asking how many more pets we could adopt!
Woah! Slow down there kid! 
Before she could turn our house into the next animal sanctuary, I explained to her that there are a lot of other ways we can help the animals in our community. Here are a few we came up with:
1. Donate
Animal shelters are always grateful for donations and donations can come in a variety of fashions! Monetary donations are always great (and immensely appreciated) but you can also donate old blankets, pillows, animal crates, cages and feeding accessories. And an even easier donation is pet food and treats!
You would be simply amazed at how much food and treats shelters go through in an average week. For reference, our two dogs go through a large bag of dog food every 10 days! Now think about all the dogs, cats, and small animals at the shelter!
And it's so easy! The next time you're at the store, head down the pet food aisle, add a few bags or cans to your cart and drop them off at the shelter on your way home. Done!
As a matter of fact, swing by your local Sam's Club during the month of October to stock up on Pedigree Dog Food or Dentastix dog treats and participate in the #PedigreeGives campaign. For each dog food or treat purchase, Pedigree will donate an additional bowl of dog food to a shelter in need!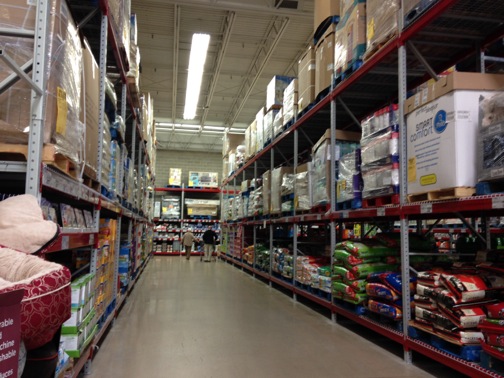 Not only did we want to donate some special treats to the dogs at our local animal shelter, but we wanted to show the workers at the shelter how much we appreciated them, too! So, Abbi and I put together a gift basket full of Dentastix treats (for the dogs) and candy & gift cards (for the humans).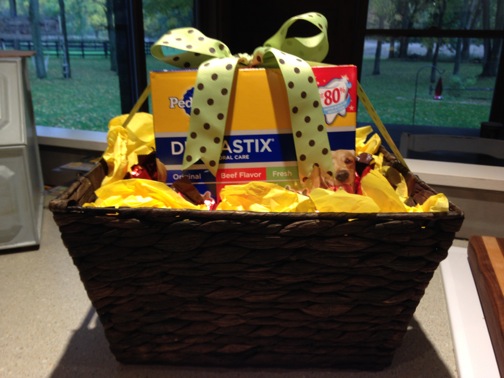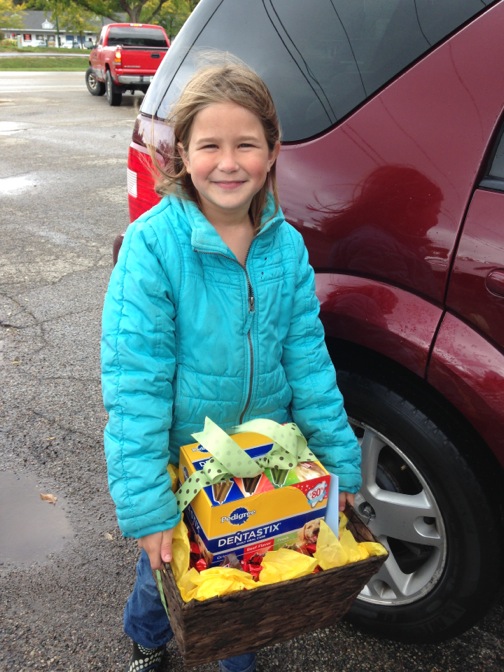 2. Take time
The people who work at local animal shelters are simply amazing! But there are only so many hours in the day! If you have a few hours to spare, consider giving your time to your local shelter. Make it a family event! Shelters are always looking for people to help clean cages, take dogs for walks, play fetch or snuggle a kitten.
While we were at The Wishbone House dropping off our gift basket, we took some time to love on the cats waiting to be adopted. And I'm not sure who loved it more, the kids or the cats!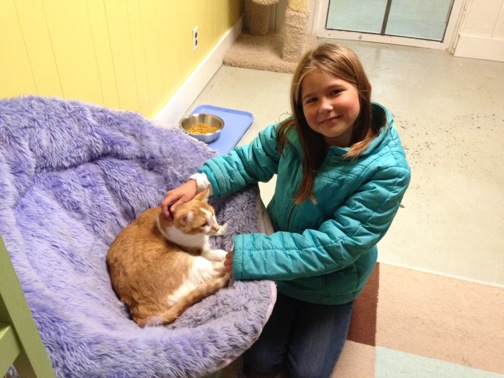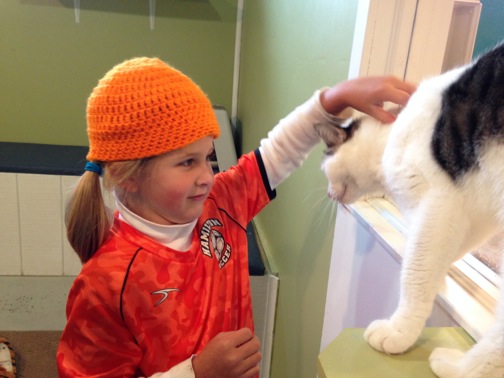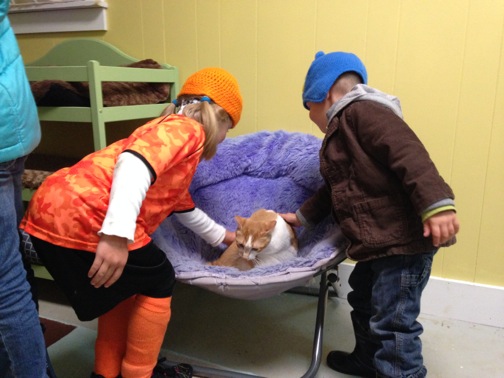 3. Be an advocate
Adopting a shelter animal is an awesome way to celebrate Pet Adoption Month (or any month) and give an animal their forever home. But, if adopting isn't a fit for you, consider fostering. Shelters become crowded quickly. Offering your home to a pet in need while they await their forever home is a great way to help those animals stay around people and continued to be loved.
You can also get involved with your local animal shelter by volunteering and attending events they hold. Fundraising events. Animal awareness events. They can be a ton of fun and are a great way to help and show your support. Just check with your local humane society for upcoming events!
The best part about all of this is that you totally don't have to be a dog-person or cat-person to get involved and help! I hope you'll use Pet Adoption Month as a way to get out there and help the animals in need in your community.
A Special Thanks to all of you who have opened your home, permanently or temporarily, to animals in need; to those of you who work or volunteer with local human societies and shelters; and to those of you who help and speak out on behalf of animals in need! You rock!
And don't forget to spay and neuter your pets

Find out more about Pedigree and their commitment to helping animals in need on their Facebook page, Twitter, and YouTube channel.