This shop has been compensated by #CollectiveBias, Inc. and its advertiser. All opinions are mine alone.
My kids have always loved Halloween. They love the dressing-up, the trick-or-treating & candy (of course), and the parties. But what they don't love is the overly-spooky side of Halloween.
Being pretty young yet, cackling witches, scary skeletons, and creepy costumes don't sit well with them. Some day they'll laugh at all those things but, for now, we try to keep Halloween fun and not so scary.
Here are three quick & easy ways to have a Spook-tacular Halloween Party fit for preschoolers!
1. Keep the costumes fun!
When inviting your little one's friends to a Halloween party, encourage them to dress as their favorite character or animal (and leave the blood thirsty dracula or Scream mask at home).  You can also set a specific theme, whether it's superheroes, cartoon characters, or their favorite characters from Disney Junior.
Disney Junior is always a fun one for us because my girls love Sofia the First, Doc McStuffins, and Minnie Mouse. And there are plenty of characters for boys, as well! We found some really adorable costumes at Walmart for this year. But here's a hint :: Don't just look in the Halloween costume aisles! If you're looking for a costume like Sofia the First, Doc McStuffins, or Minnie Mouse, look in the Disney section of the toy aisles at Walmart! Not only are you more likely to find the exact costume you were looking for, but they also have different accessories to complete the costume!
Also, from now until October 18th, look for a special Doc McStuffins, Sofia the First and Minnie Mouse costume display in your local Walmart! So awesome that they have the costumes and accessories in one place!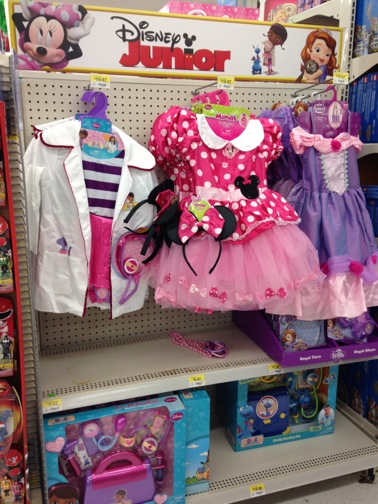 I love the Minnie Costumes we were able to find. Complete with ears!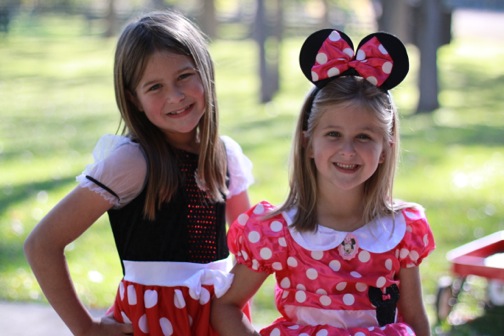 2. Keep the decor fun!
Again, skip the scary witches and pumpkins and go with more light-hearted fun decor. Goofy bats. Silly pumpkins.
It is also fun to continue on with your costume theme! For example, if you are hosting a themed Halloween party, pick plates, cups, and decorations that continue to pull from that theme. And the mix in some Halloween themed ideas.
Walmart carries a very fun line of American Greetings Party Supplies that feature some of your kids' favorite characters, including those Disney #JuniorCelebrates characters I mentioned above. And at great prices!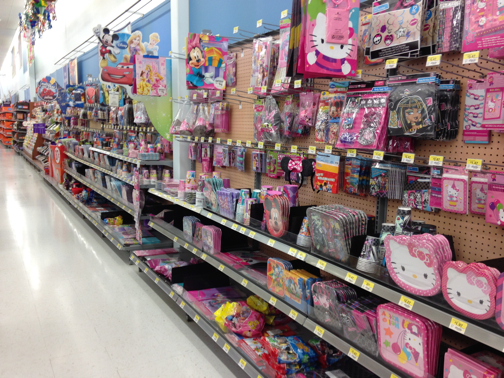 My girls have loved the fun themed-cups they've gotten at birthday parties lately, so I thought it would be perfect to pick up some Minnie Mouse cups (amongst other supplies) to match their costumes.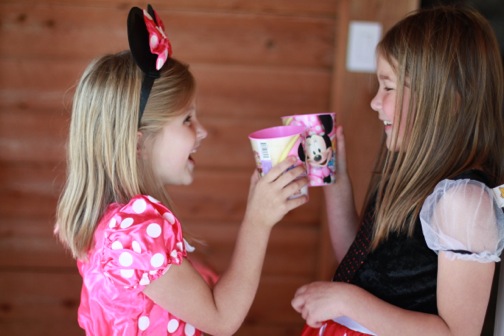 Mix in some fun Halloween treats and punch and you have the perfect combination of spooky and fun!
3. Skip the bobbing for apples.
Games like bobbing for apples can be really difficult for preschoolers and young kids. Not to mention the wet mess that will result (goodbye costume!). Instead, try games like pumpkin bowling or pin the stem on the pumpkin. Or you can plan a simple and easy craft with the kids. Have them decorate their own little pumpkins with craft supplies or pull in your party theme into the craft!
And American Greetings Party Supplies even had fun Disney Junior themed party favors that make for great prizes after the games!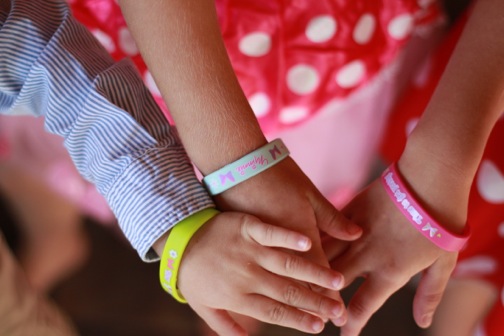 With Halloween still 3 weeks away, I know you can totally pull off a super fun and kid-friendly Halloween party! And I'd love to hear your tips, too!