Earlier this week, in honor of Earth Day, I shared a post on the SIMPLE moms all about creating your own Rain Barrel with the help of some rain barrel kits from The RainBarrel Depot. Seriously you guys! They are so easy to put together with these kits! And, if you go check out that post, you can enter to win one of three rain barrel kits that I'm giving away!
But, maybe you're wondering to yourself: Why would I even want a rain barrel? What could I possibly use it for? 
Well, aside from helping the environment and getting free water, here are 8 ways to use the water you collect from your rain barrel…and it's not all about gardening!
8 ways to use a rain barrel: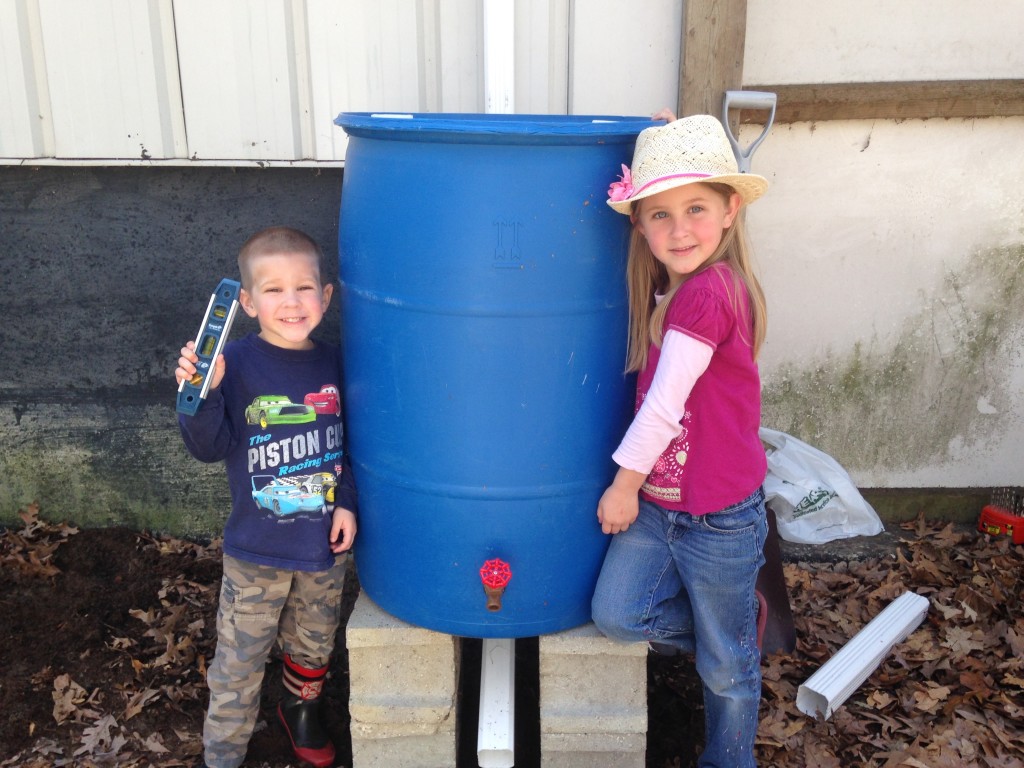 1. Watering your garden, of course. 
Regardless of the size of your garden, you'll need to give it some water from time to time. You'll be amazed at how quickly your rain barrel fills up and that stored water can be used when you go through a stretch of time without rain. Simply run a hose from your rain barrel to your garden or use it to fill up buckets or watering cans.
2. Watering container plants.
If your gardening looks more like container plants on your deck or patio, you can still use your rain barrel to your advantage. Again, simply use it to fill buckets or watering cans for when you need to water those plants.
3. Watering flower pots.
No veggies? No problem. Use the rain barrel to water those beautiful hanging flower baskets or pots. You get the drill…bucket, watering can, done.
4. Watering indoor plants and flowers.
You got this right? We're just bringing those filled watering cans indoors now.
5. Water for animals.
Do some research on this one but I've seen many sites that say rain barrel water is perfectly safe for your outdoor animals. You can also occasionally test the water in your rain barrel for safety. We'll be using ours to fill up water containers for the chickens and giving water to the barn cats and the occasional drink for the dogs when they are outside.
6. Water filling station for kids' buckets!
There's nothing worse than going outside to find that your outdoor faucet has been left on just enough to make a big muddy mess. This often happens to us when the kids are bucketing water around the yard for sandcastles or mudpies or whatever other creation they've come up with. By using the rain barrel as their filling station, it doesn't matter if they leave the faucet dripping because eventually it will run out and I won't be wasting water forever. But hopefully someone catches it before it rains again!
7. Super soakers!!
Same principle as the filling station for the buckets, kids can use the water barrel as their filling station for water guns, super soakers, and even water balloons for outdoor fun!
8. Rinse-off station!
Whether it's muddy boots or sandy feet, you don't want that mess tracked into your house. Use your rain barrel as a rinse off station for muddy or sandy boots, shoes, feet, and hands! Add a base of rocks under your spout area to give a nice clean area for rinsing!
What I absolutely love about rain barrels is that you can create them as big or as small as you need and like. And, with some creative thinking (and a little push from Pinterest) you can make your rain barrel look as beautiful as you like! It doesn't matter if you're living in the city or on 100 acres in the country, rain barrels can be for everyone and, with the help of The RainBarrel Depot, you can get started today.
Again, be sure to check out my post on the SIMPLE moms to learn more about The RainBarrel Depot's rain barrel kits and enter to win one of your own!