It's amazing how quickly our front porch can become a cluttered heap of shoes and boots! With 5 people coming in and out and the "no work boots in the house" rule, it was high-time to figure out a better storage system!
And when I saw a similar idea on good ol' Pinterest, I knew what this week's project would be!
Before we get started, a quite note to say that this would easily work indoors as well if you have the room. Also, you can add another box or crate for hats & mitten storage!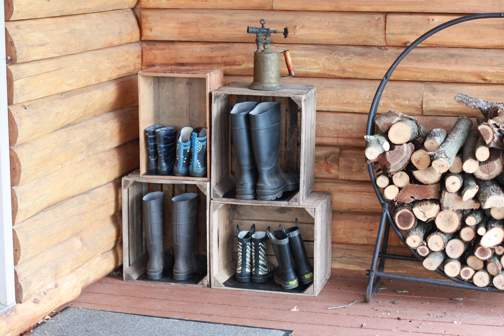 I'm not going to bore you with a tutorial on this because there's really nothing to it! But I will give you a few tips!
The gist is that you use different size crates or wooden boxes stacked on top of each other. It's that easy! Now, for the tips!
Tip 1: Vary the size and direction.
Give your storage system a more interesting look by varying the types of boxes or crates you use, the size, and how you arrange them. It's ok if they don't line up perfectly or one hangs over the other one.
Tip 2: Finding your crates and boxes.
I do a lot of scouring around on auction, vintage shops and sales, and Facebook pages. When I find a crate or box at a good price, I try to snag it up. I'll always find a use for it later. But then I also found out that people have these old crates just sitting in barns and are willing to sell them pretty cheap to you! Ask your friends, put a post out there on Facebook, or randomly stop by an old farm. There's no reason to be spending $30 on a crate!!
Tip 3: Line your crates and boxes.
Because our boxes and crates are going to be used for work boots and will be outside, I wanted to make sure they were set-up for such. The last thing I want is the snow or mud (or other brown stuff) to drip down from my kids' boots into mine! That's disgusting!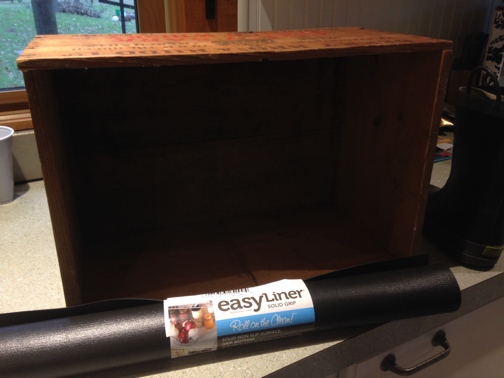 So, I picked up a roll of shelf-lining material from the store to line our crates and boxes. It doesn't have a sticky side, so no worries about it damaging the boxes or crates if I decide to repurpose them later. But it will help to keep anything from dripping through. Just cut the liner to the size you need and lay it flat on the bottom.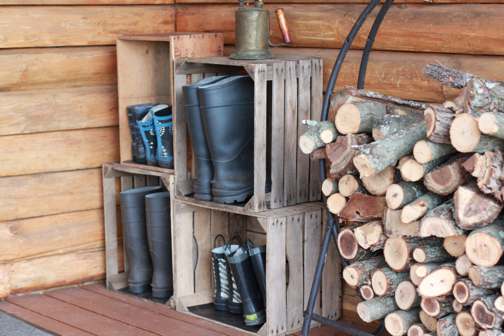 That's it! Just a quick storage solution for that work boot mess!